Era ends in ancient Mayan city, but world is spared
Comments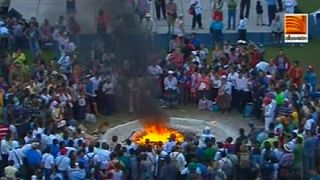 What was once the ancient Mayan city of Tikal is now one of the biggest tourist attractions in Central America, especially on the day the Mayans calculated would signify the end of one age and the beginning of another.
A small crowd gathered at sunrise to mark the occasion but many were there in case of a more sinister reason.
In the 1960s a leading US scholar suggested the Mayan calendar could signify "Armageddon" on Friday December 21 2012.
Even though the theory was debunked by other experts, the date has become synonymous with the 'end of the world'.
That had led to fears of mass suicides, natural disasters, epidemics or an asteroid striking earth.
But in Guatemala on Friday, the beginning of doomsday passed off peacefully with a fitting ceremony for what many hope will be a more spiritual age.
Attention turned to other locations in the world where the predicted catastrophe could strike.