Markets react to Monti's decision to resign
Comments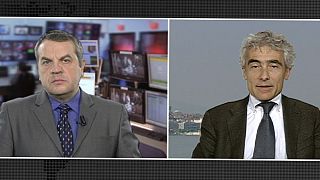 Italy is set to have a new government sooner than expected after Mario Monti said he would step down once the 2013 budget is approved. Insecurity hangs in the air as the market reacted.
Monti himself was quoted in the daily La Republica as saying he was very concerned. Market reaction showed its concern about who will lead the eurozone's third biggest economy out of its debt crisis.
Italy's benchmark 10-year bond yield rose to 4.83 percent, the highest in roughly more than three weeks. Italian shares fell more than 2 percent, with banks hit hard because of their hefty domestic government bond holdings. Italy's biggest, Unicredit, fell 5.2%.
Italy's government has the biggest debt burden of any of the major eurozone countries at 123% of economic output -GDP, increasing its susceptibility to a loss of market confidence.
Annibale Fracasso euronews: "As expected, Prime Minister Mario Monti's resignation has frozen markets across the world, the Milan stock market plunged, debt spread has gone sky high and the yield on Italian 10-year bonds is rising. Professor Tito Boeri, is Italy back in the centre of the euro crisis storm?"
Professor Tito Boeri: "There is a concern over it for the government had conducted a major reorganisation of work and had restored credibility in the international financial and political world.
'Now Italy is in a difficult situation. Prime Minister Monti announced his resignation and now there is uncertainty looking into the future. But I am still an optimist over the future scenario for Italy."
euronews: "The rating agencies believe that after the next Italian election there will not be a clear majority in the Italian Parliament. Will the government be able to continue with the austerity measures introduced in the last 14 months by Monti?"
Professor Tito Boeri: "We will probably vote under the old electoral law, which is a bad law but if there are no surprises the coalition of the centre-left will win with a new party dominated by Mario Monti's supporters. This coalition could positively affect the action of the new government continuing the reform agenda initiated by the Monti."
euronews: "In a curious twist of fate, Monti announced his decision to resign in Cannes. It is exactly the same French city where a year ago during the G20, Merkel and Sarkozy had mocked Silvio Berlusconi's government action. How will the EU react now?"
Professor Tito Boeri: "I believe that Europe will look at Italy with more apprehension. However, this acceleration of the crisis in some ways is positive because it means that the election campaign will be shorter. We should have the elections in February and then there will be a new government at the beginning of March. A government strengthened by popular consensus and thus able to make even more difficult decisions. I think that the Italians have understood who is to blame for this crisis, and this time will not fall for popular promises and populism."
euronews: "This week the Eurogroup will close the financial package to Greece. Is Italy likely to be the new Greece in Europe?"
Professor Tito Boeri: "We were really on the verge of becoming like a Greece. Fortunately, a year of Monti's government has changed things and I think there is a different perception of Italy in the world. What we are experiencing at this time is definitely a hiccup, but I believe that the perception about Italy has really changed, so I think luckily we are far enough away from the brink."