'Flipped' classrooms improve learning
Comments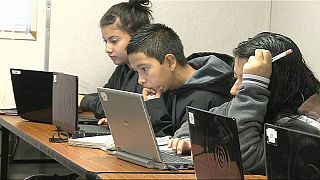 What if the traditional ways of using classroom teaching and homework were swapped around?
Where children learn the basics of a subject at home allowing them to tackle the more complicated problems in class with the teacher?
In this edition of Learning World we meet pioneering teachers who use modern technology to the fullest to tackle learning from a different angle. "Flipped" learning allows teachers to monitor the progress of students even better, as well as allowing each student the chance to progress at their own speed.
Salman Khan is one of the leaders in the world of video teaching. His global internet school contains thousands of free video tutorials that are watched by millions of people every month from all over the world.
In Norway Anne Cathrine Gotaas makes video lessons on mathematics, to help teach her students at an Oslo high school. She too has "flipped" her lessons and her methods have been recognised internationally.