Egypt president treads a fine line between Palestinians and Israel
Comments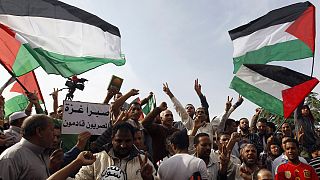 Calling for the cutting of all contact with Tel Aviv hundreds of Egyptians, angry about Israel's strikes against Gaza, are protesting in Cairo.
This latest outbreak of violence puts Egypt's president Mohammed Morsi in a difficult situation.
His Muslim Brotherhood party is sympathetic towards the Palestinians, but Morsi needs to
tread carefully and not jeopardise international aid of around 1.6 billion euros.
"I explained Egypt's stance about our eagerness to maintain good relations with the United States and the world, but at the same time we completely reject this aggression and refuse to accept these actions and bloodshed, and the siege placed on the Palestinians," said Morsi.
Morsi is the leader of a party that has historically been close to Gaza's leaders, Hamas.
However, he is also the leader of country bound by a peace treaty with Israel. This leaves him very little space to manoeuvre.
Some Palestinians had high expectations after Morsi was elected in June 2012, such as Gaza resident Ismael Haniyeh, who said: "Egypt has an important role to play – an historic role in the Palestinian cause."
Hopes may also be high in Gaza because Egyptians have always had sympathy for the Palestinian cause.
Under former Egyptian leader Hosni Mubarak's regime, there was little concern for what people thought.
Mubarak was seen by the US as an intermediate between Israel and the Palestinians, and hailed for his role as mediator.
Nevertheless, within Egypt, the former leader has critics – including the Muslim Brotherhood – who saw his stance on Israel as too complacent, which some are already saying about Morsi.
'Gaza will pay a very high price' IDF spokesperson
 
Euronews, Mohammed Shaikhibrahim:
"Joining us from Jerusalem is the spokesperson for the Israeli Defence Force, Avichay Adraee. Israel has launched a major military operation against Gaza, why now?"
 
Avichay Adraee, IDF spokesperson:
"After a week in which 130 rockets were fired from Gaza into Israel and from the the start of the year 750 rockets have been launched. So we decided to go ahead with this operation with two objectives. To strike hard at the terrorist organisations in Gaza, to send a message to the terrorists that we will protect Israeli lives and that they will be prevented from attacking Israel whenever they want. The second objective is to create a secure environment for our citizens in the south."  
 
Euronews, Mohammed Shaikhibrahim:
"You announced your military operation to target the heads of Palestinian military wings, but what we see is that most of the victims are civilians, women and children. What do you say to that?"
 
Avichay Adraee, IDF spokesperson: 
"Yes civilians have been killed and injured because of our military action this is normal in war. But I promise you that we are taking every measure to avoid civilian casualties."
 
Euronews, Mohammed Shaikhibrahim: 
 
"Let's talk about Tel Aviv, for the first time in 20 years the city has been hit by rockets from Gaza. How do you explain that from a military point of view?
 
Avichay Adraee, IDF spokesperson:
"This shows how vital it is for us to act because the terrorist organisations have the capability to hurt Israel and millions of Israelis, whenever they want."
 
Euronews, Mohammed Shaikhibrahim:
"On the other hand Israel, has the most powerful military machine in the Middle East."
 
Avichay Adraee, IDF spokesperson:
"That is true, but we are a sovereign state and when we take a decision we bear in mind the reactions of the international community, as Israel is democratic. Yet terrorist organisations make crazy decisions whenever they like." 
 
Euronews, Mohammed Shaikhibrahim:
" Do you expect Israel to launch a ground offensive inside Gaza?"
 
Avichay Adraee, IDF spokesperson:
"Firstly, for the military operation we hit them hard to reduce their ability to attack Israel. It was a strong assault against their rocket bases, but they still have long-range rockets and they have launched some of them against Tel Aviv without any casualties."
 
Euronews, Mohammed Shaikhibrahim:
"Can you confirm that the Knessett has come under attack?"
 
Avichay Adraee, IDF spokesperson:
"This is a Hamas lie, because most media offices are in Jerusalem and if that happened the news would be all over the world."
 
Euronews, Mohammed Shaikhibrahim:
"Hamas says Israel can expect some big surprises if the IDF attacks on the ground"
 
Avichay Adraee, IDF spokesperson:
"The Israeli army is ready to follow all orders from our leaders and that includes a ground offensive and I promise you Hamas and other organisations in Gaza will pay a very high price, greater than the one they have already paid."
 
Euronews: Thank you