No tooth fairy dust for Nobel Biocare profits
Comments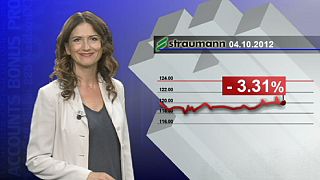 Nobel Biocare, the world's second-largest maker of dental implants paid the price of its profit warning in Zurich on Thursday.
The Swiss company's share price plunged nine percent in early trading, then reduced its loss to 4.34%.
Negative media coverage over the risks linked to dental implants made Nobel Biocare's sales drop in the third quarter in Japan, where it earns 13% of its revenue.
Revenues were up globally over the period. But it was only due to positive currency shifts. At constant exchange rates, it fell by 5.1%.
Beyond the Japanese issue, Nobel Biocare is suffering from the world economic crisis, as patients are postponing to better days pricey dental implant treatments that are rarely covered by health insurers.
As a consequence, the group expects its operating profit to be between 67 and 70 million euros this year. That is 10% below its former target. Nobel Biocare says it does not anticipate any improvement of the economic conditions in the short run.
This profit warning weighed down the share price of the sector's world leader, Switzerland's Straumann. which lost more than 3% at the close.