Georgia's new top man is Russia-friendly
Comments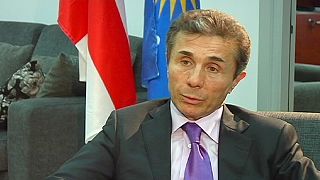 The Caucasus Republic of Georgia is set for a political overhaul.
Former opposition forces have won the parliamentary elections, and the country's leader of nine years has been sorely discredited.
Bidzina Ivanishvili, leader of the winning coalition Georgian Dream, has displaced Mikheil Saakashvili who heads the United National Movement party and who has conceded defeat in the parliamentary poll but wants to finish his term as president.
This would mean the two of them working together.
Ivanishvili told Euronews he aims to be in the driver's seat, and said he is not going to let a passport dispute with his political opponents stop him. Born in Georgia, he also meets the permanent residency requirements.
Sergio Cantone, Euronews: Are you planning to change your citizenship?
Bidzina Ivanishvili, Georgian Dream Coalition Leader: "You mean French citizenship?"
Euronews: "Yes, and get Georgian citizenship?"
Ivanishvili: "I think both are possible. I can keep the French and restore the Georgian. As you know I was illegally deprived of my citizenship and the case is in court."
Euronews: "You will be probably running for an important institutional job."
Ivanishvili: "I plan to become prime minister, the leading figure of the country, according to the new constitution of Georgia."
Euronews: "What more could be done to bring foreign investment to the country? Have you an idea from which countries, which blocs it should come: the US? The EU? Russia?"
Ivanishvili: "Nowadays, a Georgian businessman is not ready to export products to the American or European market. In an initial stage it would be good and interesting for us for us to return to the Russian market, as generally the Georgian businessman is much more familiar with the Russian market. The main problem is that we don't have strong local production. Markets are significant in business, you need production."
Euronews: "There are also political problems that are somehow harming Georgian trade, because the relationship with Russia is problematic, mainly from the political point of view. How would you fix this problem?"
Ivanishvili: "Well, it is a very important question. Of course I realise that normalising relations with Russia will not be easy and will take a long time. Firstly, we should work on establishing cultural and trade relations. Only afterwards should we focus on the issue of the territorial integrity of our country, maintaining friendly relations with Russia."
Euronews: "Is it still at the top of your agenda to join NATO and the European Union?"
Ivanishvili: "Our main strategy is Euro-Atlantic integration, and we do not [intend to] change this strategy, continuing our aspirations towards the European Union and the North Atlantic Alliance."
Euronews: "On one hand you would like to establish a good relationship with Russia and on the other hand you want your country to become an applicant country for NATO…"
Ivanishvili: "Of course, in the initial stage it will be quite contradictory, but we need to make it work, as we are not going to change our strategy towards the European Union and NATO. We need to [learn] from the experience of other countries, such as the Baltic states, which have entered NATO and the European Union, as well as managing to normalise their relations with Russia. This is going to be difficult but not impossible."
Euronews: "Your past as a businessman was strongly related to Russia… do you think that it could help to find solutions to problems that have been difficult for others?"
Ivanishvili: "I know Russians well. I have a lot of friends there, and possibly it will have a positive influence on our efforts to establish diplomatic relations with the country, but I do not think this will have a significant role in this process. Certainly it will not make this process easier."
Euronews: "Do you still have economic interests with Gazprom?
Ivanishvili: "I haven't owned any shares in Gazprom for five or six years. Besides, I never owned more than a one percent stake. It is more of a rhetorical question, to be honest. In those times Gazprom's stock could be purchased in the morning and sold in the evening. When I had a share in Gazprom I often used to say that it was just a profitable purchase, which I sold profitably as well."