Building the schools of tomorrow
Comments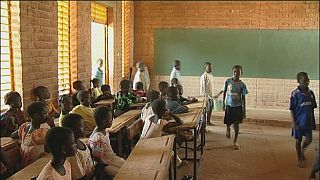 The way schools are designed can have a significant impact on the way children learn. Architects are now taking a fresh approach when it comes to creating teaching environments and, in some cases, doing away with traditional classroom settings.
We look at how three cutting-edge schools – in Sweden, Burkina Faso and Abu Dhabi – are breaking down the boundaries.
Sweden: The school with no walls
At the Vittra School in southern Stockholm, you will not find corridors of classrooms. There are no walls.
Instead, learning areas are loosely defined by subtle borders and large abstract creations.
"Many of my kids say 'This is great because we don't feel trapped,'" said Vittra teacher Frida Monsen.
According to architect Rosa Bosch, the school has been designed in a way which allows children to learn on their own terms.
It is clear that pupils do not want to go back to traditional classrooms.
"I would feel more locked in, here it is so open, I feel free," said nine-year-old Filippa Johansson.
Burkina Faso: Class climate change
Gando primary school in Burkina Faso is seeking to demonstrate the advantages of using local materials to create a learning environment.
Built with compressed earth blocks, it was designed and funded entirely by architect Francis Kere, who was born in the area and now lives in Germany.
"With the architecture here, I have been able to show a new way of thinking. I've used the knowledge that I've picked up in Europe, to improve the environment for teachers and children in this village," Kere said.
Promoted as "earth architecture," careful attention has been paid to integrating the school with its environment.
The building is also designed to provide natural ventilation in the classrooms, beating the heat without the use of air conditioning.
"I prefer this building because it is beautiful. When there is heat coming in, there is good ventilation. When it is dark, you are able to light it up," said one pupil.
Abu Dhabi: Thinking green
Abu Dhabi is looking to the future with sustainability in mind. It has a vision, one it wants to achieve by 2030.
The Mohammad Bin Mubarak School is designed to help meet those goals. It boasts an environmentally-friendly courtyard, which features an 'eco tree'.
"It is a way to teach children about the importance of the environment and agriculture," said Aisha al-Blushy, architectural engineer.
"Being in a desert environment means we have to draw children's attention to the efficiency of plants in moderating temperature, preserving species and striking an environmental balance."
The school's design helps control the amount of light and heat coming into the building.
It is crucial in a country where temperatures can soar up to 50 degrees celsius.
"When the children first saw the school's sustainable environment – solar panels, light sensors – it was very strange for them," said head teacher Fatima al-Bastaki.
"We try to link what they see with what they learn, through experiments and projects during science and maths lessons. This is also to promote an eco-friendly attitude."