MEPs react to French first round result
Comments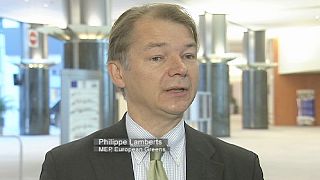 The first round of France's Presidential election has been watched well beyond the country's borders. Numerous European broad sheets led with the result. 'Hollande wins first round', led the Financial Times. Belgium's La Libre, fronted with the two finalists and the Front National's candidate Marine Le Pen, who won the party's biggest ever share of the vote. Spain's El Pais summed it up: ''The rise of Le Pen determines the second round.''
Dominated by economic issues, some Socialist MEPs in Brussels said they hoped a Hollande second round victory would mean a new economic deal for Europe.
''Through his desire to renegotiate the fiscal treaty, Francois Hollande provides some hope of a European recovery. This is key, we hope with him it will lead to other policies that will restart the economic engine and kick start employment,'' said Socialist MEP Marc Tarabella.
The far-right Front National's anti-immigration platform was also a major feature of the French election's first round. MEP's offered differing views for Marine Le Pen's solid support.
"This has to do of course with many people in France being fed up with mass immigration, with insecurity but also with European politics. They want a more pro-French policy which is more critical towards the European Union," Philip Claeys from Belgium's Flemish far-right party Vlaams Belang.
But Belgium Green MEP Philippe Lamberts said: ''It's fear which drives this populist vote concerning national identity, which we have seen in France but also in Belgium's Flanders region, Finland and Italy. I think it's a bad idea to play on these fears, but these fears do exist in society.''
Le Pen's record tally is also likely to have a major influence on the behaviour of the two remaining contenders, especially Sarkozy, as he tries to woo the far-right vote for the second round.
"What will Sarkozy's campaign do to attract those votes, how far will he swing to the right, and if he does, what impact will that have on the middle-ground vote which he also needs to gather up?" British Conservative MEP, Richard Ashworth.
The second round of the French presidential election takes place on May 6.