French Muslims fear worst after Toulouse tragedy
Comments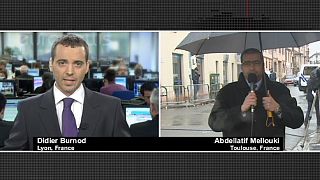 France is always volatile during elections, and Muslim integration has been a hot topic for this one. France's Muslim community has already been feeling the heat from mainstream conservative's shift to the right, and now there is the Toulouse tragedy to feed the paranoia and populism.
Not surprisingly, many Muslims are worried about a possible backlash from sections of society that, at best, grudgingly tolerates them, and at worst vilifies them and would rather not live alongside them at all.
"We're going to get the blame again as usual, we're all going to be painted with the same brush, and Islam will be demonised," said one young woman.
"We feel we're in deep trouble because of this; not for the first time, and sadly, not for the last," agreed a young man.
The risk now is that immigration-related issues overshadow other matters like the economy, with politicians falling over each other to sound tough, and the extreme right wing Front National seizing the political high ground.
With this in mind euronews' Didier Burnod spoke to the Vice-President of the Muslim Regional Council, Abdellatif Mellouki. He asked him how does the Muslim community feel in Toulouse and in his region after the violent events?
"Now above all, the community is very worried by the reactions of people who are going to continue to lump everything together. Sometimes there is even a feeling of fear. And that's understandable, we are also in this electoral period, which doesn't help things."
euronews : "Exactly, we are in the middle of an electoral campaign in France, some are warning against people making political capital out of it, we have already noticed certain candidates accusing and blaming each other. What is your view?"
Abdellatif Mellouki: "I met some presidential contenders yesterday during the commemoration ceremony for the soldiers in Montauban, I talked with them and I asked them especially to be very, very vigilant with these claims. Above all I put my faith in the media to take care not to equate this event with practising Muslims living their lives normally, be they workers, researchers or academics, who are here and belong to this community in the region. So it's up to the politicians, the media to play the game and not resort to mixing everything together and resorting to Islamophobia, which pushes some people towards this extremism."
euronews: "Mr Mellouki, as a representative of the Muslim community, what message do you want to convey today?"
Abdellatif Mellouki: "First of all for the Muslim community, the message I want to get over is above all not to give in to panic, above all to continue to live normally, to be very very careful. And regarding other people whatever their religion or people who are atheists who do not adhere to any religion, that they are also understanding, that they are open towards others, that they try to understand, that they try to communicate with others. It's not with ignorance that we can judge others, it's above all by understanding and via an exchange and by meeting others."