Carlos Slim: 'I am not a monopoliser'
Comments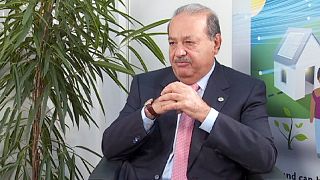 Meet Carlos Slim, the Mexican telecom tycoon who has nudged Bill Gates into second position for the third year running, cementing his place as the richest man in the world.
Slim's big break came in 1990, when he snapped up Telmex, Mexico's privatised telephone company which now runs Latin America's biggest mobile network.
So sprawling is his empire, they say Mexicans simply cannot avoid putting money in his pockets on a daily basis.
Euronews met the business magnate to discuss monopolies and the financial crisis.
Chiara Reid, euronews: "What do you make of this current economic crisis? We see people camping outside St Paul's Cathedral in London, the Indignatos taking to the streets of Rome, Athens and Madrid and some Latin American cities too. Do you think capitalism as a model, which has worked so well for you, simply does not work any more?"
Carlos Slim:
"No no. I think the governments need to take care of public education. People who can't pay for education should have the support of the government. I think that in this crisis, the governments need to look at how to correct the deficits and how to correct the structural problems they have. The best way to do this in my opinion is to look for development, we need to encourage development, not create harsh austerity plans. When you create so much unemployment it is clear that people will become angry. You're making a big mistake if you don't give young people opportunities and hope for studies or jobs.
euronews: "You talk about governments but as a big private investor do you feel at all responsible for the crisis?"
Carlos Slim:
"Not at all. I think one of the problems of the monetary and fiscal policy is that the governments are putting all their resources in the financial economy instead of into the real economy. My activities are in the real economy.
"We are in telecommunications, we are in financial institutions, working with credit. Also, we work in insurance, mining and in building infrastructure and construction. The resources should go to the banks who should then give credit to small and medium sized business and give credit to rural areas for agriculture and production."
euronews: "How do we fix this crisis?"
Carlos Slim:
"I really do believe that the mistakes I see are from the governments' structural problems, because they have a lot of fiscal deficits and fiscal taxes. They don't make enough to cover all their expenses, what they're spending. I think they should look for private investment and create development projects and not austerity, which only decreases the economy and makes problem worse."
euronews: "You are the richest man in the world, so they say. But you come from a country where half the population lives in poverty. Looking in from the outside, many people find this an extreme contrast. What is your take on this?"
Carlos Slim:
"I think in our country, like other countries with poverty, the best investment is to invest against poverty and create jobs. You have to incorporate people who are marginal and living in poverty and bring them into the modern economic market.
euronews: "So they can then become consumers and you can sell them your products?
Carlos Slim:
"It is better for people to be able to work and for that to happen we need education and human capital, education and knowledge create better jobs.
euronews: "What about the telecom monopoly you have in your country? Many detractors say that it is because of this that prices are so high, stifling competition. Now the government regulators have tried to fine your companies. Do you think it's time to open up a level playing field?"
Carlos Slim:
"Well you have begun by asking me a bad question. Monopoly means only one."
euronews: "Well you own 80 percent of landlines and 70 percent of mobile services."
Carlos Slim:
"You know, the landlines are not important for the economy. Firstly, it is not a monopoly, there are a lot of competitors. Secondly, if you look at the price list for the Merrill Lynch Bank of America, you can see that we have nearly the lowest OECD."
euronews: "But they say the opposite."
Carlos Slim:
"Well, I don't know. Who says that."
euronews: "The World Bank and…"
Carlos Slim:
No no. You need to look at the real facts.
euronews: "So one last question about something else. You are of Lebanese descent. What do you think of the Arab Spring, does it open up new opportunities for business? Would you invest in Tunisia, Egypt or Libya?"
Carlos Slim:
"It is clear we are living in a new civilisation of knowledge and of new service technologies and of course, they have to have new paradigms. The paradigm for the new society is freedom, democracy, plurality, diversity, globalisation, competitiveness, productivity, technology, innovation, human rights and the environment. These are the paradigms for the new civilisation."
euronews: "As a businessman, would you invest in these new economies?"
Carlos Slim:
"It depends, we need to do things that make sense and what makes sense now is for us to focus on the 18 or 19 countries where we already do business. We need to make a lot of investments so we will focus on the areas we are already in.