Fresh attempts to broker Nagorno-Karabakh deal
Comments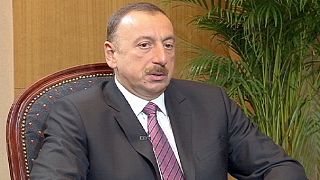 On the eve of a new round of negotiations between Armenia and Azerbaijan, mediated by Russia, the president of Azerbaijan, Ilham Aliyev, spoke to euronews
Aliyev: The personal involvement of Russian president Medvedev helps us come closer to a settlement. Therefore, our expectations are optimistic and we think that if the Armenian side will show a constructive approach and will find the political will to make important steps forward, the conflict can be resolved very soon.
 
euronews: What should the Armenian side do in order to be constructive as you said?
 
Aliyev: As far as the negotiation process is concerned, the basic principles which were offered by mediators to both sides are in line with internationally recognised principles, which are territorial integrity of the countries and self-governance of the people. These two principles are not conflicting, they are both important, and both of them can be provided in the peace agreement.
 
euronews: What is Azerbaijan prepared to give in the case of withdrawal of Armenian forces from Nagorno-Karabakh? Is Azerbaijan offering something in return?
 
Aliyev: Actually we do not have to give anything back for something that belonged to us in the first place. . Nagorno-Karabakh is a historic land of Azerbaijan and internationally recognised territory of Azerbaijan.
 
euronews: Yes, but the Armenians will only withdraw their troops under some perculiar conditions like, for instance, the self-determination or the strong autonomy of the region I suppose?
 
Aliyev:
For many years our position was very clear and several times I personally, publicly declared that we are ready to grant the highest possible autonomy existing in the world to people who live in Nagorno-Karabakh and who will return to Nagorno-Karabakh.
 
euronews: How should this autonomy work according to you?
 
Aliyev: That will be the subject for future negotiations and in our minds it could be a meaningful autonomy. The positive example of autonomy existing in Europe, I think, could be very attractive because it would be difficult for us to invent something new. We have positive examples in European countries.
 
euronews: For instance?
 
Aliyev: For instance in Italy, and Tyrol in Austria, and other places where central government pays a lot of attention, maybe much more attention, to autonomy, and financial support is much broader in order to provide decent living conditions for the people. We can do the same. Azerbaijan is a country with vast financial resources and for us it will not be a big problem to implement serious social and economic development programmes for Nagorno-Karabakh.
 
euronews: What is your impression of the current Armenian political leadership's approach to this problem? Do you think that they are more open-minded than in the past?
 
Aliyev: Up until a certain point in time, there was a mood in Armenia that they would keep the status quo as long as they could, and they would succeed in doing that. But important developments in recent months shows that the international community and the co-chairs of the Minsk Group – the United States, Russia and France, and their leaders - made a very straightforward statement saying that the status quo is not acceptable. These are the events of recent months. There is a very clear understanding in the world that the Nagorno-Karabakh conflict is not a frozen one. It is not. And the ceasefire is very fragile. The permanent violation of the ceasefire and the line of contact is of serious concern, I think, to all of us – to Azerbaijan, to Armenia, to the international community. Another important factor is that the balance of power between Armenia and Azerbaijan changed dramatically during the last several years. Today, for instance, Azerbaijan's budget spending is ten times more than Armenia. The whole military budget for Azerbaijan is more than the total budget for Armenia and this is a reality. The more time passes, the gap between the two countries will be even bigger.