Internet shoppers and their rights
Comments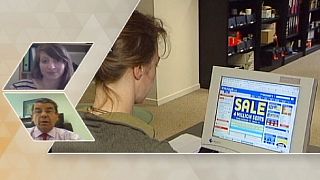 Nikita from Belgium:
"When I see something I would like to buy on the Internet, I always think twice, especially if the seller is based in another member state. What are my rights as an on-line shopper and who do I contact if things go wrong?"
Bruno Dupont is from Euralia European Affairs Consultancy
"When you are a consumer thinking about buying on-line you need to follow a few basic steps. Check the reliability of the seller, make sure they have an address and it appears serious about the products it has to offer, and check the contract. One should talk to the outlet there is usually a phone number and its good to have some kind of physical contact with the seller.
There are still significant obstacles, one that concerns consumers is the method of payment, because it is not harmonised across the 27 member states, so it causes problems.
There is EU legislation on small claims procedures, small claims can be filed simply and cheaply in disputes of up to 2,000 euros. The procedure is simple just download,
The application form that can be sent to a court in the consumers own country.
At European Level the European Consumers Organisation is an umbrella for all of Europe's consumer associations. European institutions are always looking to tighten up the consumer rules."
If you have a question for U Talk go to our website www.euronews.net