Mozambique seeks consensus on Ivory Coast
Comments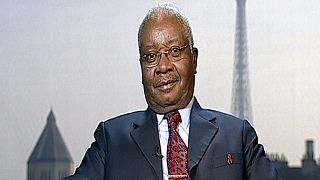 Armando Guebuza has been the President of the Republic of Mozambique since he won the elections in 2004 with 68% of the vote. He spoke to Euronews about the challenges facing Africa: the Ivory Coast crisis, the uprisings in North Africa and the Middle East, and the struggle to stamp out corruption and establish transparency within governments.
Maria Barradas, euronews journalist: "More than ever, the world is watching Africa. You are president of a member state of the African Union. How does that organisation envisage a solution for the Ivory Coast crisis? Is there a strategy?"
Armando Guebuza: "As you can guess, there is a strategy. At the last summit at Addis Ababa, we set up a council which, alongside the Ivorian people, is searching for solutions to this situation. On this council there are heads of state and we believe that together they will find a way out of this difficult situation in the Ivory Coast."
Maria Barradas: "But there is no consensus. Some countries, in particular Angola and South Africa are accused of supporting Laurent Gbagbo and therefore adding to the tension…"
Armando Guebuza: "It's normal that there are differences in a situation like this which is why we're giving it our special attention and why we wanted to have some of these countries on the council to enter mediation to solve the conflict. Our main aim as the African Union is to ensure that in the end, the new administration will reflect the results of the elections which were held in this country."
Maria Barradas: "And how long do you think it will take to find a solution to this conflict?"
Armando Guebuza: "We all want to see a solution as soon as possible, but with these types of things there are no calendars. It's a search for consensus in a situation where there are very marked differences between the two sides."
Maria Barradas: "How do you see the political upheavals taking place in North Africa? Do you fear a domino effect? Do you fear these movements spreading to other parts of Africa?
Armando Guebuza: "We think the regimes in this region must do all they can to listen to and respect the demands of their people. We are still seeing situations of confrontation, so it still isn't clear what outcome might be accepted by all sides in these conflicts, but we defend people's right to have their demands respected. Right now, we can't tell how much this might affect sub-Saharan Africa, but the important thing is that it serves as a warning for all of us. A warning that we have to take the needs of our people into account, and we have to intensify dialogue with the people."
Maria Barradas: "Mozambique is already feeling the effects of this movement. In periods of crisis like this, prices of basics, especially basic foodstuffs rise very fast. How is your country dealing with rising food prices?"
Armando Guebuza: "As you can imagine, during all crises, rising oil prices is a constant threat to our country. But as regards foodstuffs, we take the example of wheat and other cereals… The answer is to increase productivity and we are preparing to do that. Production will increase this year. Even if production doesn't reach the levels we need it to straight away, it will be a way to encourage the acceleration of increasing foodstuffs production."
Maria Barradas: "Mozambique and the EU are currently negotiating a new agreement on fishing. One of the biggest challenges facing your country is illegal fishing. What steps are you taking to combat this? With what resources?"
Armando Guebuza: "We are collaborating very closely with South Africa and Tanzania, but we are also looking for European support, especially from Spain. We hope they can give us the technical means and training so that our navy are better prepared to intervene."
Maria Barradas: "What are the priorities in combating corruption and establishing transparency in the government?
Armando Guebuza: "I think that's a vital question. Here in Mozambique we still use old mechanisms within civil society and the state to track financial spending – how much we receive and how we spend our people's money."