Shirin Ebadi on human rights in Iran
Comments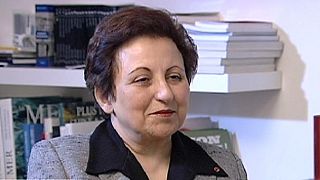 Shirin Ebadi is an Iranian lawyer, human rights activist and Nobel peace prize winner.
She recently accepted, on behalf of Abdulreza Tajik, an Iranian journalist who is in prison, the Reporters Without Borders 'Journalist of the Year' award.
euronews used the occasion to talk to Shirin Ebadi about human rights in Iran.
euronews: "Let speak first about human rights. In recent years, you have stressed repeatedly that human rights issues in Iran have been overshadowed by the international community's concerns about Iran's nuclear programme. Do you think that your warnings and those of other human rights advocates' have had any effect?"
Ebadi: "They have paid some attention, but not enough. The West is still preoccupied with its own security and is not stressing the principles it claims to defend. We saw in their recent negotiations with the Iranian government that once again they forgot human rights issues and only concentrated on whether or not Iran should continue with its enrichment programmes. I say, pay a little more attention to what you claim is important and ask why people are being imprisoned in Iran?"
euronews: "The strange phenomenon in Iran is that not only political dissidents, human rights activists and journalists are persecuted by the government, but also their lawyers are routinely arrested by the regime. In other words, the lawyer for someone who is charged with a political offence, gets arrested, and then the lawyer for that lawyer is also held. For example, you yourself have been and are the lawyer to a number of political and human rights activists,
and yet you are being prosecuted and your lawyer, Nasrin Sotudeh, is in prison and on trial for handling your case. Are there provisions for lawyers to have immunity from prosecution when practising their profession?"
Ebadi: "Let me first explain why the government is putting lawyers under such pressure. The government doesn't want those charged with political offences to choose independent lawyers for themselves. Independent lawyers are put under increasing restrictions, especially those who give interviews to the media. Currently, there are five lawyers in prison in Iran. This is apart from Ms Sotudeh who is illegally being kept in solitary confinement. Protesting against this unlawful behaviour, she has gone on hunger strike and I am very worried for her health. There is another lawyer, Mohammad Oliaii-far, who has been given a one-year prison sentence for bravely defending those under the age of 18 who have been sentenced to death by the regime, (but who under Iranian law cannot be executed until they reach the age of 18). He is seriously ill, but the government is not prepared to allow him to be released for medical treatment. These restrictions indicate the lack of independence in the judicial system. Under the law, a lawyer should enjoy the same legal immunity as a judge, but that point of law is ignored. When these lawyers were arrested, I contacted the International Bar Association and colleagues in other countries, such as France and Spain. I also wrote to the Special Rapporteur on the Independence of Judges and Lawyers. All this will be filed on Iran's record of violating the principles of human rights. That is why every year the United Nations issues a communiqué asking Iran to observe her international obligations."
euronews: "Mrs Ebadi, if we consider the attitude of governments towards Nobel Peace Prize winners as an example of their approach to human rights issues, perhaps we could compare the treatments received by An San Suu Kyi and Liu Xiaobo at the hands of their respective governments, and the treatment you received from the Iranian government. How do you see this comparison, and now that you have to live in exile, how effective do you think you are? Would it be possible for you to continue living in Iran?"
Ebadi: "The Iranian government confiscated all my property using the excuse that I had failed to pay tax on the Nobel Peace Prize I won in 2003. It is interesting that the amount of tax they were claiming from me was greater than the amount of the prize itself; and this is when Nobel prizes are exempt from tax. My husband was in prison, my whole family were in prison, and now they are not allowed to leave the country. In short, they caused me a lot of trouble. Even before all this, and in 2008, they illegally closed Tehran's Defenders of Human Rights Centre which I had established with my prize money. I complained because they had acted illegally, but to this day, no judge has dared open the file on it. When I tell you that Iran's judiciary has lost its independence, that's what I mean."
euronews: "Finally, why is it that any civil activity and human rights issues are to such an extent mixed with political matters? Some experts say that acts of violence and interpretation of human rights depend, to a certain extent, on cultural issues. On the other hand, some governments say that they only accept human rights declarations and international conventions in accordance with their own ideologies. For example, the Iranian government talks about Islam's understanding of human rights. What do you think about these different approaches to interpreting human rights issues?"
Ebadi: "Whenever the Iranian government faces accusations for violation of human rights, it resorts to cultural differences and what you just mentioned. I must say, however, that Iran has unconditionally accepted the international conventions on both civil and political, and social and economic rights [of its citizens]. So, when they accept a convention, they should implement it. This is an international code of behaviour and has nothing to do with East and West, or Muslim and Christian. If Muslims take it upon themselves to write a declaration of human rights [in accordance with their religion], then naturally, they should allow the same right for other religious denominations. Then, we shall witness a Jewish declaration of human rights, a Buddhist declaration of human rights, a Hindu declaration of human rights, and thousands of others; and there will remain no such thing as human rights anymore. Human rights are an international code of behaviour."