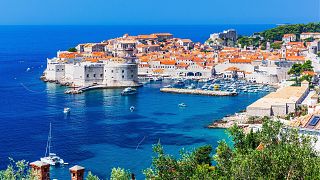 Europe's passport-free travel zone will be welcoming Croatia but Romania and Bulgaria have been left outside.
EU countries today voted on whether or not to admit the three nations into the so-called Schengen zone - a pact between countries to abolish border checks for those travelling between their territories.
Croatia received unanimous support from the 26 Schengen member states.
However, Austria blocked Romania and Bulgaria, citing a lack of preparedness. The Netherlands supported Romania's bid but opposed Bulgaria's.
"We need more time," Austrian Chancellor Karl Nehammer said earlier this week.
"At the moment, we have 75,000 unregistered illegal migrants in Austria - meaning they have crossed an external EU border and made it to Austria. This needs to be solved first."
Croatia will also start using the euro from January 2023. Here's what you need to know if you're planning a trip to the country next year.
Do you need a passport to enter Croatia, Romania, and Bulgaria?
Croatia has been part of the European Union since 2013, and Romania and Bulgaria since 2007. But until now none of them have been part of the Schengen zone.
This means that a passport or identity card has been required to enter these countries, even when arriving from a country in the Schengen area.
It currently encompasses 26 countries, including 22 EU member states, and almost 420 million citizens.
From January 1, 2023, Croatia will lift its border controls with other Schengen countries. 
When will Romania and Bulgaria be considered for the Schengen zone?
Romania and Bulgaria have been waiting over a decade for confirmation.
Today, the Netherlands voted against Bulgaria's accession bid over what it calls unaddressed rule-of-law concerns and pending pieces of legislation to tackle corruption and organised crime.
Bulgaria, which has had a caretaker government since August, challenged these claims and said the opposition was unrelated to the Schengen criteria.
"Two member states expressed reservations but they don't have any particular concerns with relations to Schengen," Bulgarian Interior Minister Ivan Demerdzhiev told Euronews at the end of the meeting, noting his country was ready to take the "necessary steps" to convince its skeptical partners.
"The argument of Austria is that Schengen is not working and we must unite our efforts to make Schengen work as it has to, and then enlarge it with Bulgaria and Romania. Until then, Bulgaria is not responsible for the internal problems in Austria."
Ylva Johansson, European Commissioner for Home Affairs, said the Commission would remain "optimistic" and ensure the accession takes place before the end of her mandate.
"When we are united in the EU, we are so strong, we can achieve so much," Johansson told reporters. "When it comes to the accession of Romania and Bulgaria, we are not united and that makes us very weak and that makes me also sad."
What currency does Croatia use?
At the moment, visitors to Croatia need to exchange their money as the country will continue to use its own currency, the kuna, until January next year. Currently, one Croatian kuna is worth around €0.13.
From next year, however, Croatia will begin using the euro. The country joins 19 other countries in the bloc that use the currency.
The eastern European nation is hoping this will bring greater financial security to its citizens and raise the standard of living. 
It should help rein in soaring inflation, which also means travellers can expect fewer dramatic fluctuations in prices.