Olympic Games
London 2012
July 27th to August 12th 2012
03/05 16:13 CET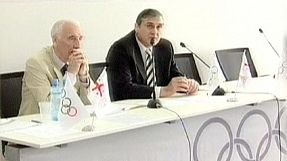 Georgia announced this week it will participate in the next year's Winter Olympics in neighbouring Russia despite lingering resentment about the brief war between the countries almost five years ago. Some members of President Mikhail Saakashvili's party strongly backed a boycott of the Games but the Georgian National Olympic Committee on Thursday voted…
25/03 17:56 CET

Nine-times Olympic gold medallist Carl Lewis said this week he hoped…

25/03 17:12 CET

The International Olympic Committee continued their visit of Istanbul…

18/03 22:04 CET

After concluding its visit of Tokyo the International Olympic Committee…
London 2012 Special features
the New Media team at euronews has traced the history of the Olympics, with photos, videos and text, in the timeline below. we also looked at how many medals each country has won since the Games began, calculating an average of how many medals per Games. We also looked at the relationship between a country's medal success and its population and GDP. Feel free to have a play with our interactive medal table!
You can also read our in-depth report: What does it take to win al Olympic medal?
There are currently no sports wires to list for the selected category. The latest sport news wires are listed below.
Sport (Reuters)
euronews provides newswires as service to its readers, but does not edit the articles it publishes. Articles appear on euronews.com for a limited time.