'European democracy is under attack': Roberta Metsola addresses EU Parliament corruption scandal
Comments
By Euronews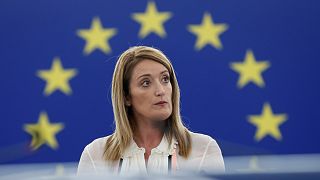 -
Copyright

Philippe BUISSIN/ European Union 2022 - Source : EP
Roberta Metsola, the President of the European Parliament, warned on Monday that there would be "no impunity" for those found guilty of corruption as she addressed what is perhaps the gravest graft scandal to hit the hemicycle in recent years.
"Make no mistake, the European Parliament, dear colleague, is under attack. European democracy is under attack," Metsolsa said during the opening of December's plenary session.
She also announced a reform process on lobbying and transparency rules.
Eva Kaili, one of the Parliament's vice presidents, was arrested on Friday by Belgian police as part of a "major investigation" and has been charged with participation in a criminal organisation, money laundering and corruption.
Kaili, who sat with the socialist group, is suspected of illicit lobbying in favour of a Persian Gulf state, which Belgian media has identified as Qatar, the controversial host of the 2022 FIFA World Cup.
The Greek MEP was reportedly "caught in the act," the only circumstance that triggers an immediate revocation of parliamentary immunity. Five men, including Kaili's partner, Francesco Giorgi, who works as a parliamentary assistant, and former MEP Pier Antonio Panzeri, were also taken in for questioning.
On top of that, the house of a Belgian MEP, whose name has not been divulged by the authorities, was raided over the weekend. Metsola had to fly back from Malta in order to be present for the police search, a legal requirement under Belgian law, a spokesperson told Euronews.
Police searches were also carried out in Italy on Sunday with the support of Eurojust, the Belgian Federal Prosecutor's Office revealed on Monday.
Twenty searches were carried out in total, including 19 in private homes and one in the offices of the European Parliament. Kaili's office remained sealed on Monday.
These raids have allowed authorities to recover €600,000 euros at the home of one suspect, several hundred thousand euros in a suitcase in a Brussels hotel room and a further €150,000 in a flat belonging to an MEP, the Prosecutor's Office added.
Metsola, in her speech, referred to the "longest days" of her career and to her "fury, anger and sorrow" over the shocking developments.
"These malign actors linked to autocratic third countries have allegedly weaponised NGOs, unions, individuals, assistants and Members of the European Parliament in an effort to subdue our processes. Their malicious plans failed," Metsola said.
"I know also that we are not at the end of the road and we will continue to assist in investigations, together with other EU institutions, for as long as it takes. Corruption cannot pay and we have played our part in ensuring these plans could not materialise.
"To those malign actors in third countries who think they can buy their way forward, who think Europe is for sale, who think they can take over our NGOs, let me say: 'You will find this parliament firmly in your way'.
"We are Europeans, we would rather be cold than bought."
Metsola said the allegations surrounding Kaili were not about "left or right" but about "right and wrong" and urged lawmakers to "resist the temptation to exploit this moment for political gain."
"Do not cheapen the threat we are facing," she asked them.
Metsola then promised to review the transparency rules that govern meetings between lawmakers and foreign actors and said that "there will be no impunity. None."
"There will be no sweeping under the carpet," she said. "We will launch an internal investigation to look at all the facts related to the Parliament and to look at how our systems can become yet more watertight."
Every single group in the European Parliament has requested that a debate on the corruption scandal be held on Thursday. A vote on the matter is to be held later today.
"This is a very difficult day for the social-democratic group. And that's why we have decided to present ourselves as an injured party in the legal case," said S&D leader Iratxe García Pérez. "The criminal behaviour of some people tarnishes this institution and the credibility of the European Union."
García has already suspended Kaili from the political group.
"These are dark days for European democracy," said Greens co-chair Terry Reintke. "This puts shame on all of us here in the Parliament"
Metsola and political group chairs will convene for an extraordinary Conference of Presidents on Tuesday morning to vote on whether to bring an end to Kaili's term under Article 21. This termination will have to be endorsed by two-thirds of the hemicycle in order to be effective.
In the lead-up to the decision, the President stripped Kaili of her tasks and responsibilities as vice-president.
"There will always be some for whom a bag of cash is always worth the risk, what is essential is that these people understand that they will get caught," Metsola said. 
"These are challenging times for us all, but I know, I am convinced, that if we work together we can come out of it stronger."  
A legislative file to exempt visa requirements for Qatar and Kuwait, for which Kaili voted in favour in early December, will be sent back to the committee to be re-examined.
Watch Roberta Metsola's speech in the video player above.