'I was very moved': MEP Pierrette Herzberger-Fofana on applause after racism debate speech
Comments
By Shona Murray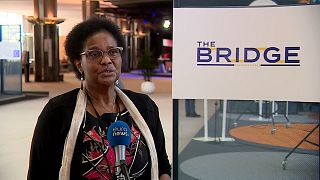 -
A black MEP has told Euronews how touched she was after receiving a standing ovation for her speech during a debate on racism.
MEPs applauded Pierrette Herzberger-Fofana after her address on Wednesday in which she claimed police had humiliated her during an incident in Brussels.
She alleged officers turned violent with her after she tried to film them "harassing" black youths near Gare du Nord station.
"I was very moved by this standing ovation, I did not expect it," she told Euronews. "It sincerely moved me very much and I think that together we will be able to change things in Europe. that we all want it, and if we get together we are able to change this question of structural racism which exists above all.
"Of course, it was a personal experience, but it is the experience of many people who do not have the opportunity to express themselves, and I have the opportunity to speak on behalf of all these victims, and that is why I did it."
Herzberger-Fofana alleged that during the incident last Tuesday police refused to believe she was an MEP despite her efforts to show them several forms of identification.
"They grabbed my handbag from me, pushed me against the wall, spread my legs and one of the police officers wanted to frisk me," she told MEPs. "And they dealt with me in a very humiliating way."
The 71-year-wiped away tears after her speech and the subsequent applause.
European Parliament President David Sassoli has sent a letter to Belgian Prime Minister Sophie Wilmès asking her to take "immediate and necessary measures" and condemning police violence.
"As president of this institution and in the name of all European parliamentarians, I firmly condemn all excessive uses of violence, notably by police," Sassoli wrote.
The MEP recounted her experience as the parliament was debating racism and police brutality in Europe on the back of the death of black American George Floyd.
Herzberger-Fofana, a German MEP, speaking to Euronews on Thursday, talked more about why she chose to speak out.
"I think it's important that everybody knows what's going on, we always tend to say 'no, no, there's no racism in Europe, there's no police violence', 'no, it happens to other people' or when it does happen, we go through the person's past and try to prove by A plus B that this person is at fault.
"And that's why I wanted to share my experience, which is really something incredible for me - what happened to me.
"It also allowed the Members of Parliament, who are people who can change laws at European level, to say to themselves 'yes, it can also happen to a colleague who is at the same level as us'."
A police spokeswoman told Euronews two investigations have been opened into claims Herzberger-Fofana was mistreated and humiliated, an internal one and another by the prosecutor's office.