EU Cohesion Policy boosts Sweden's forestry sector - sustainably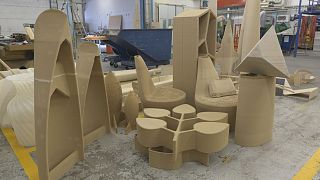 Wood is seen as a source of sustainable life. In Sweden, "Paper Province" is preparing for the transition from a fossil fuel-dependent economy to another one, one that is plastic-free and eco-friendly. How? By using the raw materials of the Swedish forests to make innovative everyday objects with a very low carbon footprint.
This is the ultimate goal of this industrial cluster, supported by the EU Cohesion Policy. Pelle Stafshede's company Melker is one of them.
"I decided that I wanted to do the absolutely best-looking kayaks in the world combined with sustainability, thinking that I would change the industry completely. That's why it all happens when business understands that we also need to see the business value of going into the change from plastic into a fossil free future," he says.
The total budget of the ERDF projects that Paper Province is currently taking part in is 9.1 million euros. More than a third is financed by the EU Cohesion Policy.
The sectors targeted are packaging, energy, or sport. Most of the materials that are manufactured and tested have not yet reached the general public. But Pelle's kayak is almost ready. Its carbon footprint is much lower than those made of polystyrene, at a similar price.
It starts with wood pellets and corn and a 3D printer - the largest in the world for this type of material - and in a few hours it prints a kayak. Unsuccessful models can be recycled.
Nothing is lost, and the forest is not depleted.
"You see the trees here are fixing carbon: one cubic metre of wood contains 900 kilos of Co2. We pretty much plant 3 trees for every one we cut down. In Sweden we are cutting less than the annual growth, so we are actually building more capital in the forest," says the Project Manager of "The Wood Region", Thomas Bajer.
Paper Province also trains companies for gender parity. It is part of a paradigm shift and it works here. Sophie is 21 years old. The daughter of butchers, she now drives a gripper crane that she pilots with augmented reality glasses. She is proud of what she does.
"There are starting to be more and more women in this sector of activity, I think. You see a lot of women driving big trucks like this one, and also other types of trucks."
As of today, Paper Province has 103 member companies, (the member companies have an annual turnover of some €2.2 billion.)
Paper Province is not a project but a cluster, (the legal name is "economic association"). However, the Paper Province cluster runs and takes part in a number of ERDF-funded projects.
With regard to the Cohesion Policy, the main ERDF-funded projects that we currently lead or take part in as partners are:
- The Wood Region
- Climate Smart Innovation
- The Bioeconomy Region
- Low Carbon Economy through the Development of LignoCity
The total budget of these four ERDF-funded projects is €9.1 million, (for the entire project periods).
The cluster organisation's (Paper Province), annual turnover is €1.8 million, (including regional, national, private and ERDF funding).
The ERDF funding allocated to the four projects, ("The Wood Region", "Climate Smart Innovation", "The Bioeconomy Region" and "Low Carbon Economy through the Development of LignoCity"), is €3.5 million.