Brief from Brussels: 'Mistakes were made,' EU on Greek crisis
Comments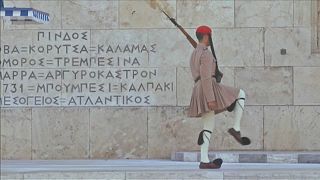 The European Union and Greece both made mistakes, the EU's finance commissioner has told Euronews, as Athens exits from its third and final bailout.
Pierre Moscovici criticises former Greek Finance Minister Yanis Varoufakis, but also the response of EU institutions.
"There were mistakes, I know that, there were mistakes initially. We thought that the situation in Greece was more robust than it was, that the foundations of the wall were more solid," he said, speaking exclusively to Euronews.
"We also also maybe took some time to take the necessary measures of solidarity, from my side, we were very close to an agreement in 2014 and if the dialogue would have gone on, something like VAT on the islands, we would not have suffered those last four years. There were also mistakes with Mr Varoufakis, I think which proposed a plan B, which was not relevant and cost a lot of money for Greece."
But on the painful austerity imposed on Greece, Moscovici went on the defence - saying the approach was crucial to getting the state and economy back on track.
"Greece experiences when the debt is too high you can not breathe. The economy is without air. You can not function. And so this is why you need to reduce your deficit, to reduce your debt, to recover your own sovereignty," he said.
'The Greek state was not really capable of functioning'
"But let's not be mistaken, it's not the austerity in Greece which created the crisis, it's because there was a terrible crisis before that we had to impose austerity measures. We must not forget that the Greek state was not really capable of functioning. That the economic structures were somehow artificial; that there was a kind of bubble based on sand. And we had to change that."
While Greeks were hit hard, one analyst says crisis management has come a long way in the eurozone in recent years.
"The institutional framework improved a lot, and indeed the eurozone can do much more now that before. There are various rescue mechanisms, the ECB is in chair of supervising the banks, which was a big and very important reform," said Zsolt Darvas, from Bruegel.
But with a long road ahead for Greece as it looks to drive down debt, it's thought the country may well need more bailout help in the future.
Fourth bailout?
Darvas said: "In my view in about three or five years from now there is a large probability that the Greek government might face major financing troubles and at that time a new fourth financial assistance programme would be needed."
But the focus is not just Greece - if Italy runs into liquidity problems, it's feared that would spell real trouble for the eurozone.