Fresh funding pledges for Syrian refugees expected at Brussels conference
Comments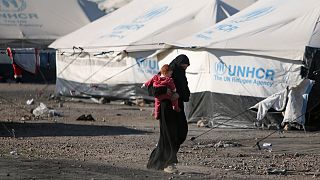 International donors are expected to pledge billions more euros for Syrian refugees at a conference that has kicked off in Brussels.
The European Union also wants to lay foundations for an eventual end to the Syria conflict, which has sparked one of the world's worst humanitarian crises.
The gathering also comes amid continued claims of war crimes.
"I just received the photos from my family inside Syria, in an area southern of Idlib, where chemical weapon attacks happened and many children were killed," Mohammed Alhammadi, Syrian NGO Alliance Coordinator, told Euronews.
"I cannot understand how can we talk about the political situation and solution with someone who is using chemical weapons and attacking what is supposed to be his population."
Qatar and Kuwait have joined the EU and Norway to organise the conference, along with the United Nations. The UN says those breaking international laws must face justice.
"Is vital that we not only say that we are going to hold people to account, but that we actually say that we are gathering the evidence and that that evidence will be presented one day in order to make sure any perpetrators who violated those laws and principles and held to account," said Stephen O'Brien, UN humanitarian affairs coordinator.
Five million Syrians have now fled because of the war, raging since 2011.
The European Union has already pledged 1.2 billion euros for 2017. Other governments will come under pressure to make good on promised made in February 2016 at a London conference, which raised more than 10 billion euros over four years.
But those promises were made before Russia's devastating bombing campaign in the Syrian city of Aleppo last year, destroying hospitals, homes and schools.
Reporting from Brussels, Euronews' Isabel Marques da Silva said: "Besides humanitarian aid, the international community wants to prepare Syria's reconstruction post-war, which will be discussed during a ministerial meeting on Wednesday.
"But diplomatic sources are clear: that strategy will only be presented once there is a clear political transition plan."