Protesters demonstrate against Erdogan in Brussels
Comments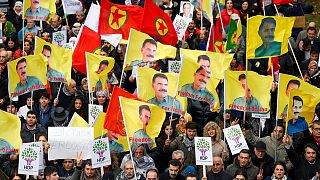 Several thousands demonstrators have taken to the streets of Brussels to protest against Turkish President's Recep Tayyip Erdogan.
They included several pro-Kurdish groups, angry over Erdogan's crackdown on the media, the judiciary and academia.
"The army used to be the guarantor of the secularism in Turkey, he first destroyed the army after the judiciary now one wonders what he still wants. He already has all the power," said one protester.
Participants at the march, mainly organised by Turkish opposition party, the HDP, said Erdogan was behaving like a dictator by jailing dissidents and political opponents.
"The European Union has supported Erdogan the Turkish government and that is why we are here. We would like to appeal and ask the European countries to sever their ties with the Turkish government and that sanctions are applied," said another demonstrator, who had travelled from Cologne, Germany.
A pro-Erdogan demonstration is set to take place in the Belgian capital on Saturday.