India and EU to push ahead with strategic partnership
Comments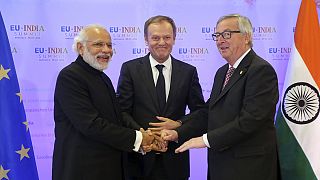 Indian Prime Minister Narendra Modi arrived in Brussels on Wednesday hoping to end a deadlock over a proposed free trade agreement that stalled four years ago.
Before the talks got underway, Modi paid tribute to those killed in last week's Brussels attacks, including an Indian national who died in the blast at Maalbeek Metro station during his commute to work.
Later both sides agreed to push ahead with plans to strengthen their strategic partnership, and have promised to take forward plans for a free trade deal, which stalled four years ago.
The EU will invest in large infrastructure projects including public transport and energy, while India wants Brussels to declare the country data security safe, which will benefit tech companies and its huge outsourcing sector.
The two sides also agreed to work more closely on climate change and counter-terrorism.