Zelenskyy says Russia is throwing more troops into battle as Ukraine braces for major attack
Comments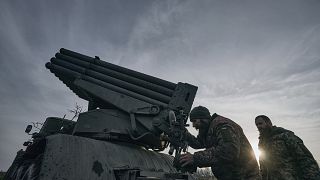 -
Copyright

Libkos/Copyright 2022 The AP. All rights reserved.
Ukraine's military is preparing for mass Russian bombardments across the country any day now as Moscow's invasion nears the one-year mark. 
President Volodymyr Zelenskyy told the nation in his nightly address Sunday that Russia has thrown more troops into battle. 
"We see this increased pressure in various areas of the frontline, as well as pressure in the information field," he said.
"It is very difficult in the Donetsk region - there are fierce battles. But no matter how hard it is and no matter how much pressure there is, we have to withstand it."
Ukrainian officials expect a major offensive this month for "symbolic" reasons. This, as defence minister Alexey Reznikov, is expected to be replaced by military intelligence chief Kirill Budanov.
Rumours about Reznikov's possible resignation surfaced amid the corruption scandal plaguing President  Zelenskyy's government. It led to several senior Ukrainian officials, including front-line governors losing their jobs last month. 
Russian officials, however, have said Ukraine this month is planning what it calls "a provocation" of a "false flag" operation in Kramatorsk.
In a Ministry of Defence statement, it said Kyiv troops were plotting to attack medical facilities in the town and then accuse Moscow of committing war crimes.
For more watch Euronews' report in the video above.