Controversial Sweden wolf hunt divides city and rural areas
Comments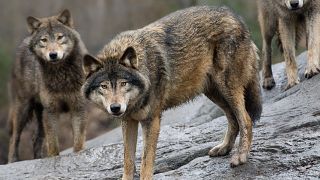 -
Copyright

JONAS EKSTROMER/STF
Swedish hunters can hunt a record high 75 wolves, twice the usual number, in a cull which has divided city and rural communities in the Nordic nation. 
Sweden has positioned itself as a leading country in environmental protection, but has had a historic opposition to wolves.
The issue has become increasingly controversial as environmental associations have condemned the annual hunt, while rural farmers say wolves are a threat to their livestock -- in 2021 more than 340 sheep were taken by wolves.  
This year, the government has given the green light to reduce the country's wolf population, from the current estimated 460 animals. 
A rural and urban controversy
"Wolves are a threat for those of us who live in rural areas," says Kjell-Arne Ottosson, a Swedish member of parliament for the Christian Democrats and vice president of the environment and agriculture committee.
Wolves are seen as a threat as they occasionally attack livestock, mainly sheep, and are a menace to hunting dogs. 
"It is very difficult or even impossible to hunt with dogs when you have wolves in the area because they are likely to be attacked," says Mikael Samuelsson, Vice President of the Swedish Hunters Association.
In the 1960s, Sweden declared wolves a protected species as they were being hunted to the brink of extinction. Their numbers started growing, and by 2010 hunting licences were granted again when the population hit 200.
Hunting licences are also issued for brown bears, wolverines and lynx, even though they are considered endangered too.
"The wolf issue has become a symbol of the conflict between the city and rural areas", says Johanna Sandahl, president of the Swedish Society for Nature Conservation, which denounces the 2010 decision to resume hunting. 
Sandahl thinks the decision is "extremely worrying" as the Swedish Environmental Protection Agency says at least 300 wolves are necessary to sustain a healthy population. 
Wolf inbreeding poses a problem
In a letter published by Science magazine in July 2022, scientists argued the culls threatened a healthy Swedish wolf population. Inbreeding levels are estimated to be high, resulting in severe deformities.
Scientists say Finnish and Scandinavian stocks should be kept above 500. Sweden's right and the far-right groups passed a motion in Parliament asking the government to take measures to reduce the number of wolves to between 170 and 270.
"To make this population viable, its size and immigration must therefore increase," the researchers noted.
The last deadly attack by wild wolves in Sweden was in 1821. A keeper was killed by a pack of wolves at a zoo near Stockholm in 2012. 
In 2011, the EU opened an infringement procedure against Sweden, deeming the hunt "illegal" at that time. 
Since then, no move has been made to enforce their decision.