Copenhagen illuminations: a three-week light show for the Danish capital
Comments
By Euronews with AFP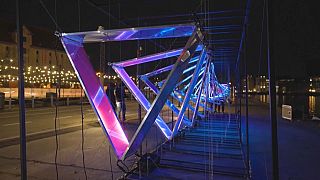 Denmark's capital city is experiencing three weeks of bright nights with beams, bulbs and illuminations chasing away the winter shadows.
The Copenhagen Light Festival will feature more than 35 light installations and twenty pop-up events in all districts of the city until February 26.
"In the middle of these dark months, having a festival that celebrates city life and being together and having extraordinary, artistic experiences, is so important for a city like Copenhagen," said Camilla Van Deurs, City Architect.
The three-week event is considered one of Europe's biggest light shows and attracts artists and designers from all over the world.
French artist Francois Gauriaud is exhibiting his artwork Echo at this year's show.
"The Light Festival is for all the people," said M. Gauriaud. "You are rich, you are poor, you are young, you are old. You can go and see and look and appreciate everything. And I think it's a good way to see art."