God Save the King? Will Britain become a republic or keep the royal family?
Comments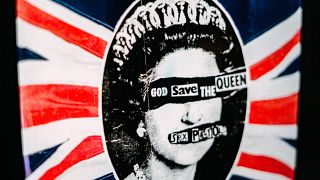 -
Copyright

Xose Bouzas/Xose Bouzas / Hans Lucas
When the Sex Pistols released 'God Save the Queen' in 1977 it certainly ruffled a few feathers.
The anti-establishment anthem -- which blasted the "fascist regime" of Elizabeth II -- was banned by the BBC, while the tabloid press accused the punks of treason, calling for them to be hung.
But Britain is a different place than it was all those years ago. 
2023 marks a watershed for the country, as a new monarch will be crowned for the first time in 70 years. 
King Charles III will ascend to the throne amid a weekend of pomp and pageantry, ancient religious rites and a concert by today's music stars. 
Support for the monarchy stayed fairly constant in the months before the Queen's death last year, and in the months since, according to YouGov -- with around 60% of people in favour of keeping the monarchy and 25% wanting to abolish it. 
But long-term trends show a clear loss of public support for the royals over the years, with increasing numbers wanting the ancient institution swept aside and replaced with a republic. 
In 1983, some 86% of Britons believed the monarchy was "very" or "quite" important. By 2021, this had slumped to 55%, with 25% saying it was "not at all important" or should be abolished, according to the British Social Attitudes survey.
A string of scandals have fuelled these republican rumblings, including Prince Andrew's alleged sexual relations with minors, then Prince Charles accepting "bags of cash" for honours and the ongoing public spat between Harry, Meghan, and the rest of the family. 
'Ingrained deference'
While even the most ardent anti-royals would perhaps concede a grudging respect for the late Queen Elizabeth and her life of service to the country and Commonwealth, for most republicans, it does not matter who the head of state is.
"Republicanism is about the type of society we want to have in Britain," Ken Ritchie from Labour for Republic told Euronews. "The monarchy represents elitism. A society in which rank and status are important and where your position is entirely dependent on the circumstances of your birth."
"Surely in the 21st century, this ought to be wrong", he said.
The overall wealth of Britain's royal family is hard to gauge due to the opaque nature of its finances. In 2015, a Reuters analysis suggested it had nominal assets worth almost 23 billion pounds at the time.
However, republican criticism of the monarchy's riches goes further, drawing attention to its relationship to the British Empire. 
"A lot of their wealth was extracted through colonialism and indeed slavery," said Ritchie. "This is no longer the sort of country we want to be."
"The monarchy is much grander, much more extravagant, much more expensive than the others in Europe," he added. "I suspect that stems back to the idea that Britain was the centre of an empire spanning the world."
While the monarchy is symbolic of British history, others question how much the royal family directly profited from colonialism.
The sprawling fortunes of Britain's royals are not the only gripe of anti-monarchists. It's also what they call the "inequality of power" that comes with it.
Professor Richard Toye, a historian at Exeter University, criticised the "democratic deficit" of having such "an important public position which is hereditary", calling it "surprising and problematic" in a country styling itself as a democracy.
This shadowy power fuels "worries about the ways in which monarchs, although they're supposed to be neutral, actually end up wielding influence over politics", he added.
In 2021, the late Queen was accused of lobbying government to protect her private wealth from new transparency laws, while other members of her family have allegedly applied pressure to get financial advantages.
"They are simply preserving their own power", added Ritchie. "We want to see a monarch that is much more transparent."
When Charles took over the Crown Estate, the 15 billion pound portfolio of land and assets held by his mother, it was not subjected to inheritance tax, prompting widespread criticism in the UK. 
What's the situation like in other European countries?
Britain is not the only European country discussing the role of its royal family.
In the Netherlands, a poll carried out for King's Day in April 2022 showed 71% support for the monarchy and 29% support for a republic -- a few percentage points more support for republicanism than in the UK, but still strong support for the royals.
Meanwhile in Denmark -- where Queen Margrethe is Europe's longest-reigning monarch -- a February 2022 poll showed almost 77% of people supported a Danish monarchy, while just 15% of people wanted the Nordic nation to become a republic.
And in Spain, where a series of financial and personal scandals has rocked the House of Bourbon in recent years, an October 2020 poll found that 41% of Spaniards favoured replacing King Felipe and Queen Letizia with a republic.
35% said they supported keeping the royal family.   
'We are entering new territory'
By any measure, the British monarchy does not seem like it is going anywhere – even if republican feeling grows stronger.
All of Britain's major political parties are pro-monarchist, and in a country grappling with strikes, inflation and the fallout from Brexit, the issue remains a low priority.
"The very existence of the monarchy is dependent on publicity and public opinion," says Ken Ritchie from Labour for Republic. 
"If it wasn't for that, it would simply be irrelevant and ignored... they're going to do their best to try and to win back public support."
Despite the "very chequered past" of King Charles and the recent controversies to rock the Royal Family, Dr Joe Powell, a republican campaigner, was dismayed that public criticism was not turning even more against the monarchy.
"You would think that the high level of scandals would make people question what they're doing, why they're doing it and on whose behalf," he said. 
"But that doesn't really seem to happen."