'What Mr Johnson said was a lie': Kremlin responds to former British PM's missile claims
Comments
By Euronews with AFP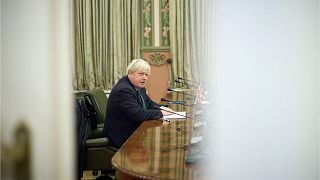 -
Copyright

AFP PHOTO / UKRAINIAN PRESIDENTIAL PRESS SERVICE
Former British Prime Minister Boris Johnson has said in a BBC documentary that Russian President Vladimir Putin "sort of threatened" him before the invasion of Ukraine by throwing at him: "A missile would take a minute".
However, the Kremlin has since told reporters Johnson's comments are "a lie".
"What Mr Johnson said was a lie. Either it was a deliberate lie, but then for what purpose? Or it was an unintentional lie, insofar as he did not understand what President Putin said," Kremlin spokesman Dmitry Peskov said, adding that there had been "no missile threat."
The first episode of Boris Johnson's three-part documentary will be broadcast on Monday evening on BBC Two. The former head of the British government recounts his "very long" and "extraordinary" call with the Russian president after his visit to Kyiv at the beginning of last February.
At that time, Vladimir Putin continued to maintain that he had no intention of invading his Ukrainian neighbour, despite the massive influx of Russian soldiers into the border regions.
Boris Johnson says that he had warned the Russian president of the harsh sanctions that Westerners would take if he embarked on this path.
"He said: 'Boris, you say that Ukraine is not going to join NATO anytime soon. (...) What do you mean by 'not anytime soon?'", Johnson says.
"Well, she is not going to join NATO in the near future, you know that perfectly well," continued the former British leader, an early supporter of the Ukrainians.
"At one point he kind of threatened me and said, 'Boris, I don't want to hurt you, but with a missile it would take a minute' or something," Johnson continued.
"I think that from the very relaxed tone he took, the detachment he seemed to have, he was playing with my attempts to get him to negotiate," adds the former British leader, who left Downing Street in early September after a succession of scandals.
In the documentary, Ukrainian President Volodymyr Zelenskyy recounts how he came to be enraged at the attitude of Westerners at the time: "If you know that tomorrow Russia is going to invade Ukraine, why on earth don't you give me today what will stop it? If you can't, then stop it yourselves."