Ukraine war: Russia targets Kyiv overnight in latest wave of attacks
Comments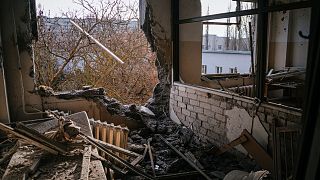 A new airstrike targeted Kyiv in the early hours of Monday, according to authorities in the Ukrainian capital.
Serguiï Popko, head of the military administration in Kyiv, urged locals to stay in shelters and reported that "20 aerial targets had been shot down".
It comes after a New Year's Day marked by dozens of Russian strikes that left at least four people dead and 50 injured in the capital and elsewhere in the country. 
The attacks continue to target critical infrastructure, with Moscow claiming to it was aiming for unmanned aircraft manufacturing facilities.
Russia has been attacking Ukraine's energy infrastructure for months, with millions losing power amid sub-zero wintry temperatures in the country.
'We won't give them anything'
Following the New Year's Eve attacks, one major in the Ukrainian army stated: "The Russian occupiers have fired 16 times with multiple rocket launchers, in particular at the children's hospital in Kherson", a southern city regularly bombarded since it was reclaimed by Ukrainian soldiers in November.
The Russians "are losing. Drones, missiles and everything else will not help them. Because we are together", said President Volodymyr Zelensky.
"And they won't take a single year away from Ukraine, they won't take away our independence. We won't give them anything. We respond to every Russian strike... on all our cities and communities," he added.
Russia said that from Saturday to Sunday "a long-range precision airborne attack against Ukrainian defence industry facilities involved in the manufacture of attack drones used to carry out terrorist attacks against Russia".
Moscow often describes Ukrainian military operations on Russian territory or against Russian infrastructure in Ukraine as "terrorist acts". 
The Russian army has also declared that it will continue its offensive in the Donetsk region, in eastern Ukraine, where most of the fighting is currently concentrated.
On Sunday evening, Ukrainian forces said that "the enemy continued to attempt attacks in the Bakhmout sector". Russian forces have sought to seize the region for more than six months, at the cost of heavy losses on both sides and unimaginable destruction.