World Cup 2022: Portugal trains for much anticipated quarter-final match against Morocco
Comments
By Euronews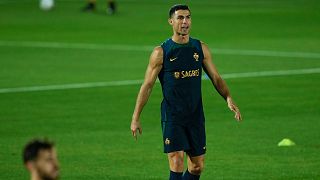 Portugal are trying not to follow Spain's path when they compete against Morocco on Saturday in the Qatar World Cup quarterfinal.
France and England will follow their match for a place in the semi-finals.
France's Kylian Mbappé is back in contention and hoping he can add to his impressive tally of five goals so far.
And France's opponents England have enjoyed a strong World Cup campaign, too, scoring 12 goals and conceding just two.
Having reached the semi-finals of the last World Cup and the finals of Euro 2020, this might be their best chance in a generation to lift that famous trophy.
Watch Euronews' report by our reporter Sam Ashoo in the video player above to learn more.