Russian forces blow up key bridge between Sievierodonetsk and Lysychansk
Comments
By Euronews with AP, AFP, Reuters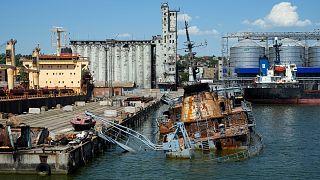 -
Fierce street-by-street fighting is ongoing in the key eastern city of Sievierodonetsk, where Russian troops are said to have blown up a key bridge over the Siverskyi Donets river linking it to its twin city Lysychansk, cutting off a possible civilian evacuation route.
Russian bombardment also hit a nitrogen fertilizer plant sheltering hundreds of civilians, resulting in a large fire, Luhansk regional governor Serhiy Haidai said.
Outside of the Donbas, Ukrainian officials have reported that the army has made progress in repelling the Russian forces in the Kherson region, while the Ternopil region was bombarded overnight by the Russians.
Review the main developments on Sunday in our blog below.
06.12.2022
11:48
Sunday's key points:
Intense fighting continued in Sievierodonetsk, according to regional governor Serhiy Haidai, while the Ukrainian forces have repelled a Russian advance on Popasna on Saturday night.
Moscow-installed administrators celebrated Russia Day on Sunday handing out its first passports to residents of Kherson and Melitopol in southern Ukraine and organising concerts, according to Russian state-owned outlets. Although the Kremlin reportedly wanted to declare victory in the Donbas on 12 June, the fighting in the region is still ongoing.
Scholz, Macron and Draghi are planning to visit the Ukrainian capital and meet with President Volodymyr Zelenskyy ahead of the G7 summit.
Ukrainian and British officials warned that Russian forces are relying on Soviet-era missiles that are "highly inaccurate" and likely to cause significant civilian casualties, due to a lack of more precise modern weapons.
Nearly 800 children have been killed or injured in Ukraine since the beginning of Russia's invasion, Ukrainian authorities said Saturday.
Former McDonald's restaurants in Moscow rebrand and reopen on Sunday under new domestic ownership, in a move seen as a test of Russia's ability to fight Western sanctions. 
06.12.2022
22:03
That's it for our live coverage of the war in Ukraine for Sunday. We will be back with our live blog on Monday morning.
06.12.2022
21:02
Russian flag painted at entrance to Mariupol as port is said to be 'ready to operate'
A new city sign painted in the colours of the Russian flag was unveiled on the outskirts of Mariupol on Sunday, replacing a monument which had been in the blue and gold of Ukraine.
Russian flags were also being flown on a highway into the port city, which is now fully under the control of Moscow-backed forces.
According to Kremlin-installed authorities, the seaport is now ready to operate as usual and was being used to ship goods to and from Russia.
The Russian military said demining works were ongoing at the beaches of Bilosaraiska Kosa outside the city, but the harbour waters have been already cleared.
The head of the Donetsk People's Republic Denis Pushilin said the removal of bodies of soldiers killed during the fight for control of the city was "under control" and denied any possible risk of a cholera outbreak.
06.12.2022
20:14
Moscow-installed officials celebrate Russia day in occupied parts of Ukraine
Kremlin-installed officials in occupied southern Ukraine celebrated Russia Day on Sunday and began issuing Russian passports to residents in one city who requested them, as Moscow sought to solidify its rule over captured parts of the country.
At one of the central squares in the city of Kherson, Russian bands played a concert to celebrate Russia Day, the holiday that marks Russia's emergence as a sovereign state after the collapse of the Soviet Union, according to Russia's state news agency RIA Novosti.
In the neighbouring Zaporizhzhia region, Moscow-installed officials raised a Russian flag in Melitopol's city centre.
Ukrainian media reported that few, if any, local residents attended the Russia Day festivities in the two cities.
06.12.2022
18:18
Russian troops blow up bridge in Sievierodonetsk, cutting off a civilian escape route
Russian forces have blown up a bridge linking the embattled Ukrainian city of Sievierodonetsk to another city across the river, cutting off a possible evacuation route for civilians, local officials said on Sunday.
This leaves only one bridge over the Siverskyi Donets River linking Sievierodonetsk and neighbouring Lysychansk standing, governor Serhiy Haidai said on Sunday.
Sievierodonetsk has become the epicentre of the battle for control over Ukraine's eastern region of Donbas.
Most of the city has been pulverised in some of the bloodiest fighting since the Kremlin unleashed its invasion on 24 February.
Russian forces have taken a large part of the city but Ukrainian troops remain in control of an industrial area and chemical plant where hundreds of civilians are sheltering.
06.12.2022
16:55
Second Briton fighting on Ukrainian side killed in Sievierodonetsk
A British former soldier has been shot and killed in Ukraine, his family said Sunday, praising him as a "hero".
Jordan Gatley is the second Briton reported to have died fighting alongside Ukrainian forces against Russian invaders.
In a post on Facebook, his father Dean Gatley said his son had left the British Army in March and went to Ukraine "after careful consideration".
Gatley said his son was killed in the city of Sieiverodonetsk, in eastern Ukraine, which has been under heavy Russian attack.
Asked about Gatley's death, a foreign ministry spokesperson said: "We are supporting the family of a British man who has died in Ukraine."
06.12.2022
15:57
At least 22 people wounded in Russian missile strike against town in western Ukraine
In a rare Russian attack in the west of the country, its missiles struck the town of Chortkiv, injuring at least 22 people including children, the regional governor said on Sunday.
"Yesterday at 7:46 pm (5:46 pm CET) Chortkiv was hit by four missiles, all fired from the Black Sea," Volodymyr Trush said in a Facebook post.
Trush, governor of the Ternopil region where Chortkiv is located, said "a military installation was partially destroyed" in the attack "and residential buildings were damaged".
Russia's defence ministry said the strike on Chortkiv destroyed a "large depot of anti-tank missile systems, portable air defence systems and shells provided to the Kyiv regime by the US and European countries".
Chortkiv, which was home to nearly 30,000 people before the Russian invasion, is located 140 kilometres north of the border with Romania and 200 km southeast of Lviv, the largest city in western Ukraine.
Unlike eastern and southern Ukraine, which have borne the brunt of Russian firepower since Moscow invaded on 24 February, the west of the country has only seen sporadic attacks.
06.12.2022
15:40
Kremlin-backed separatist leader says death sentences for three foreigners 'perfectly fair'
The leader of the separatist so-called Donetsk People's Republic said he would not alter the death sentences handed to two Britons and a Moroccan for fighting with the Ukrainian army.
"They came to Ukraine to kill civilians for money. That's why I don't see any conditions for any mitigation or modification of the sentence," Denis Pushilin, the leader of the separatist Donetsk region, which tried them, told reporters.
Pushilin said the court had "issued a perfectly fair punishment" to the three fighters.
He also accused British Prime Minister Boris Johnson of ignoring their fate and failing to contact the separatist authorities.
On Saturday, Johnson's spokesman said he was "appalled" by the death sentences handed down to Britons Aiden Aslin and Shaun Pinner and Moroccan Brahim Saadoun.
06.12.2022
14:42
Former McDonald's restaurants in Moscow reopen under new brand
What used to be McDonald's restaurants in Moscow opened their doors again under new Russian ownership bearing the name Vkusno i tochka, meaning "Tasty, full stop".
Fifteen rebranded restaurants opened around the capital on Sunday after the US-based burger giant withdrew its operation over Russia's invasion of Ukraine.
The reopening of the outlets is thought to be a test of whether Russia's economy can become more self-sufficient and withstand Western sanctions. 
Others, however, see the move as another step toward Russia becoming more isolated from the rest of the world.
06.12.2022
14:18
Kremlin increasingly using Soviet-era missiles in Ukraine, say Western defence officials
Russian bombers are thought to have been launching hefty 1960s-era anti-ship missiles in Ukraine, the UK Defence Ministry said on Saturday. 
The Kh-22 missiles, with a reported range of 1,000 kilometres, were primarily designed to destroy aircraft carriers and can carry a nuclear warhead. 
Fierce, prolonged fighting is depleting resources on both sides, according to British and US defence officials.
Meanwhile, Luhansk governor has accused Russian troops of using flamethrowers against civilian targets in the Donbas.
Read more here: