Children will need support to overcome psychological trauma of war, UNICEF says
Comments
By Euronews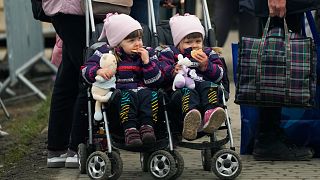 -
The war in Ukraine is having a profound impact on a generation of children. Manuel Fontaine, UNICEF's director of emergency programmes, spoke to Euronews about the plight of young persons living in Ukraine during the conflict.
"Civilians are targets in general, and so, of course, amongst them there are many children and, of course, when there's a war like that the children are caught in the middle," Fontaine said, speaking from Lviv.
"We know that many have been killed, many have been injured, and even more have actually been displaced."
Late last month UNICEF estimated that the fighting had already led to 4.3 million children being displaced from their homes, more than half of the country's estimated 7.5 million child population.
In an address to the Irish parliament yesterday, Ukraine's President Volodymyr Zelenskyy said that at least 167 children have been killed in the fighting.
Fontaine said UNICEF is currently working in the subway station of Kharkiv to help the children who have sought shelter there. He added that they've been trying to get aid to affected cities like Kharkiv, but that it's not enough, and that health facilities need to be resupplied to make sure they have what they need to deliver babies and care for young children.
Fontaine, who was in Zaporizhzhia a few days ago, said children will need a lot of help to overcome the psychological trauma of this war.
"Families, people are exhausted. They need help, they need our support. They need us to be there and start to receive the kind of first psychological aid there's going to be so important."
"It's going to be really important to help them fast, but also to stop the violence as soon as possible," he added.
Watch the full interview in the video player above.