Ukraine, Russia reach new record-high COVID infection and death toll
Comments
By Euronews with AFP, AP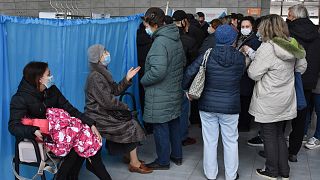 -
Ukraine and Russia reported record-high COVID-19 infections and deaths on Friday for the second day in a row.
Authorities in Ukraine said there were 23,785 new infections in the past 24 hours and 614 people died in the country.
The authorities in the former Soviet republic have struggled to obtain vaccines against COVID-19.
Vaccine hesitancy is also high in the country of 41 million people.
Four vaccines (AstraZeneca, Pfizer, Moderna and CoronaVac) are available in Ukraine. Just 16% of the population has so far been fully vaccinated while 20% have received at least one dose, according to a tally kept by Our World In Data.
Capital city Kyiv could order restaurants, theatres and other public spaces to close on Friday unless their employees are vaccinated.
Recent measures, including the introduction of the health pass in the most affected regions did lead to an increase in vaccination.
According to official figures on Friday, 269,666 people have received the injection in the past 24 hours, a record since February.
Russia is also in the midst of a COVID-19 surge with the daily death toll now reaching a new record high for the past four consecutive day. On Friday, the country's Coronavirus Task Force reported that 1,064 lives at been lost to the pandemic over the previous 24 hours.
The number of new cases also reached a new record with 37,141 infections confirmed. It is the ninth day in a row that the country has recorded more than 30,000 new cases daily.
The soaring figures prompted President Vladimir Putin to order workers to stay at home for a week, starting on October 30 and issue a plea for people to "please be responsible" and get vaccinated.
Only a third of the country's 146 million inhabitants have been fully inoculated, with 36% having received at least one dose.
This is despite Russia being the first country in the world to roll out a nationwide vaccination campaign.
COVID-19 measures have been issued by regional authorities since the end of the first nationwide lockdown which wreaked havoc on the economy but life in the main cities, including capital Moscow and St Petersburg, has been more or less unchanged following complaints from hospitality businesses.
The two cities — the most populous in the country — have now announced new restrictions with gyms, cinemas, entertainment venues and most stores in Moscow ordered to close from Oct. 28 to Nov. 7 while and restaurants will be open only for takeout or delivery.
The authorities in St. Petersburg on Monday introduced digital codes for proving vaccination that must be shown beginning Nov. 1 to enter conferences and sports events. Starting on Nov. 15, those codes will be required at movies, theatres, museums and gyms, and on Dec. 1 they will be mandatory at restaurants, cafes and some stores.
Neighbouring Latvia is also struggling with soaring cases and went back into lockdown on Thursday.
All non-essential shops will remain closed until November 15 and a nighttime curfew from 20:00 to 5:00 is in place.
The country's 14-day cumulative infection rate per 100,000 inhabitants increased from 1,400 cases on Wednesday to 1463 — a record since the beginning of the pandemic.