More than 100 arrested after far-right activists clash with police in London
Comments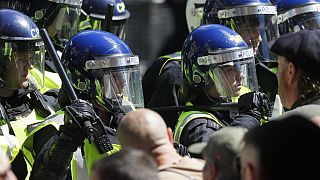 -
UK police arrested more than 100 people on Saturday after right-wing activists clashed with officers during a counter-protest to a Black Lives Matter march.
The Metropolitan Police said that the arrests were "for offences including breach of the peace, violent disorder, assault on officers, possession of an offensive weapon, possession of class A drugs, and drunk and disorder".
They have also arrested a man on suspicion of outraging public decency after he was photographed apparently urinating on the memorial to PC Keith Palmer who lost in life in the March 2017 Westminster terror attack.
The anti-racism protest had been cancelled over security concerns but some protesters still gathered at Hyde Park while hundreds of far-right activists demonstrated, despite strict police restrictions and warnings to stay home to contain the spread of coronavirus.
Groups of right-wing activists gathered around a statue of wartime Prime Minister Winston Churchill and the Cenotaph war memorial.
The two monuments had been boarded up to guard against vandalism as authorities feared that far-right activists would seek confrontations with anti-racism protesters under the guise of protecting statues.
Some activists threw bottles and cans at officers, while others tried to push through police barriers.
Riot police on horses pushed the crowd back.
Man arrested over desecration of memorial
Police said on Sunday a 28-year-old man had been arrested for urinating on the memorial to Keith Palmer, who was killed when he tackled a knife-wielding terrorist during the 2017 Westminster terror attack.
Police said the man handed himself in at a police station in Essex. 
A number of journalists reported being threatened by the right-wing activists on Saturday, and one Italian journalist was left with facial injuries after being attacked.
The Italian journalism union Sindacato Unitario Giornalisti Campania said Corrado Amitrano was "targeted by a far-right group", and that only police intervention saved him from "worse consequences".
London's mayor Sadiq Khan said on Twitter that the situation was "totally unacceptable" and urged people "to stay away" from central London, adding that the "perpetrators will feel the full force of the law."
Paul Golding, leader of the far-right group Britain First, said he was "extremely fed up with the way that the authorities have allowed two consecutive weekends of vandalism against our national monuments".
Racial justice protesters and right-wing counter-protesters were told to finish their marches by 4pm CEST on Saturday, with police fearing clashes between the two sides.
The death of George Floyd in police custody in the US last month sparked protests across the world, focused on racial injustice and police brutality.
Last weekend there were violent scenes in London as police officers were attacked by a crowd of people, and some acts of vandalism were reported.
Commander Bas Javid of the Metropolitan Police said he understood "why people want to make their voices heard" but he urged people to stay away from demonstrations, pointing to the government's calls for people not to gather in large groups amid the coronavirus pandemic.
"Based on current information, and in order to keep those people safe who plan to come and protest, we have made the decision to impose conditions on the planned demonstrations tomorrow," said Javid on Friday.
Government figures including Prime Minister Boris Johnson and Home Secretary Priti Patel have spoken out about "shameful" attacks on the statue of Britain's wartime PM Winston Churchill, which was daubed with graffiti last weekend.
Statues have become something of a focal point in the protests against racial injustice that have swept from the US to European countries.