Euronews interview: Latvian PM targets Euroscepticism ahead of EU elections
Comments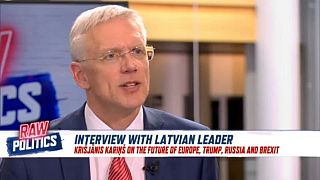 Latvian Prime Minister Arturs Krišjānis Kariņš sat down with Raw Politics host Tess Arcilla on Wednesday to discuss his concern with growing Euroscepticism within the European Union.
The Latvian leader travelled to Strasbourg this week to meet with MEPs. In a speech given on Wednesday Kariņš addressed Euroscepticism, saying: "All is really not well in the EU."
"There are politicians who are offering very simplistic answers to very complex issues. Generally, they're referred to as populists. My simple message is: don't fight the populists."
"It's a worthless endeavor. But try to understand why are people listening to the populists? Why are people are unhappy?" said the former MEP.
When asked in a Raw Politics interview why all is not well in the EU, Kariņš said the bloc has experienced one political crisis after another, including the 2008 economic downturn, the migrant crisis and military action in the Middle East.
EU's 'biggest threat'
He added that the biggest threat to the EU are "those who say we don't need the Union at all."
"If you make an analysis on why are we doing as well as we're doing ... to a large extent it is because the EU formed a single market, member states are working together, internal borders have been torn down. And to tear apart the EU actually means re-establishing borders and tariffs," Kariņš said to Euronews.
Kariņš also addressed why he said in his speech to MEPs why he called for an end in fighting populists.
"Populism works only because there's underlying unease," Kariņš said.
"So what I'm saying is don't fight the people, fight the underlying cause, engage the citizens that are unhappy."