'Speedboat killer' Jack Shepherd loses appeal against manslaughter conviction
Comments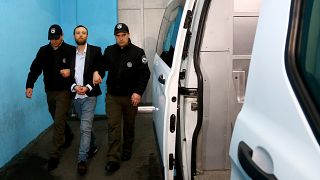 "Speedboat killer" Jack Shepherd has lost his appeal against his conviction for manslaughter.
He is currently serving a six-year sentence after he was found guilty for the death of Charlotte Brown in 2015.
The pair, who had been on a first date, were thrown from Shepherd's speedboat and into the Thames river in London. They were not wearing life jackets and both had been drinking.
Shepherd was rescued but 24-year-old Brown died.
Shepherd, now 31, fled the country ahead of his trial at the Old Bailey in London in July 2018 but was convicted in absentia.
He handed himself in to authorities in Tbilisi, Georgia in January but gave an interview to Georgian media protesting his innocence.
He said it had been an accident and Brown had been driving at the time.
Shepherd was later extradited from Georgia to the UK where he was given an additional six months in jail for breaching his bail conditions.
Earlier this month he was also sentenced to a further four years in prison for a separate offence where he assaulted a bartender with a bottle near his hometown in Moretonhampstead in Devon, southern England in March 2018.
He will serve the four-year sentence consecutively to his manslaughter conviction.
Shepherd's lawyers argued his conviction for the manslaughter case was unsafe, claiming some of the evidence used in his trial had been obtained in the initial police interview where he was not cautioned about his rights or offered a solicitor.
During the interview, he admitted he and Brown had been drinking before the incident. The Court of Appeal said in its summary that a bill from a restaurant and a search of Shepherd's houseboat also provided evidence that alcohol had been consumed.
The court ruled that evidence from the interview was admissible because it had been conducted "in good faith" and was to find out what happened during the incident as British police did not suspect Shepherd of a crime at the time and he was not under arrest.
The court overturned the six-month additional sentence for breaching his bail but warned that it is "beyond argument" that he did fail to attend court, so he could face a retrial.