What is Russia's new 'fake news' law all about? | Euronews answers
Comments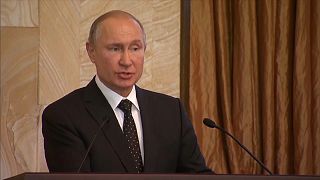 People who spread what Russian authorities consider to be fake news or who show "disrespect" to the state will face tough new fines.
Vladimir Putin signed the policy into law on Monday.
Russian opposition leader Alexey Navalny called the new legislation "lawless" and said it aims at silencing Putin's critics.
What issues are the laws addressing?
The goal of the legislation is to crack down on "fake news" and make disrespecting authorities a crime.
It will allow prosecutors to direct complaints about material considered insulting to Russian officials to the government, which can then block websites publishing the information.
The Kremlin says the law on fake news is aimed at stopping the "dissemination of unreliable socially significant information under the guise of credible reports by restricting access to information expressing disrespect for the authorities".
"The idea seems to be to quickly prevent the spread of the information that the authorities think can spark protests," says Ekaterina Shulman, political analyst and member of the Human Rights Council under Russia's president. "But the vagueness of the initiatives could be dangerous."
What could happen to those deemed to have broken the law?
People who are charged under the new fake news legislation face fines up to €1,300, while legal entities, including online news outlets and NGOs, could be hit with fines of around €13,000 for spreading what the law calls "false information that is socially significant under the guise of accurate reports".
For disrespecting authorities, a person can be handed a fine of up to €1,300. Repeat offenders could face bigger fines and the prospect of up to 15 days in jail.
What has the response been?
Many critics of the policy have suggested the new rules normalise police abuse.
"This is a bad law. The main issue for the HRC is that it is redundant and is so vaguely written that it opens room for police brutality," Shulman told Euronews. "It's absolutely unclear how you can prove what consequences happened because of what someone wrote."
According to Shulman, the censorship is not directed against specific political figures and activists but is intended to control and suppress protests.
Russia remains a country with a large array of media outlets, but limited access to critical or independent coverage and diverse political viewpoints according to the US NGO Freedom House.
Reporters without Borders ranked Russia 148th on the 2018 World Press Freedom Index, behind countries such as Venezuela and Pakistan.