Greece's foreign minister resigns
Comments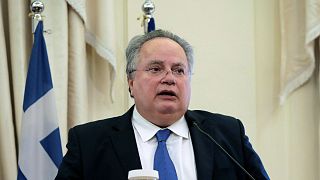 Greece's Foreign Minister Nikos Kotzias has resigned.
Kotzias was Athens' main negotiator regarding the June accord with Skopje to rename Greece's northern neighbour the "Republic of North Macedonia,".
The Greek Prime Minister Alexis Tsipras accepted his resignation on Wednesday and will take over the foreign affairs portfolio himself.
Greek media reported that Kotzias and the Defence Minister Panos Kammenos had clashed at a cabinet meeting on Tuesday over the deal which aimed to end the decades-old name dispute with the Former Yugoslav Republic of Macedonia (FYROM).
Kammenos is from a right-wing junior coalition partner emphatically opposed to the accord with Skopje. But the support is crucial for Tsipras.
The deal is in limbo after the referendum at the end of September (30 Sept) in FYROM when less than the minimum required turned out to make it valid.