Blair blasts Corbyn's 'anti-West' stance for antisemitism row - Exclusive
Comments
By Tesa Arcilla & Alice Tidey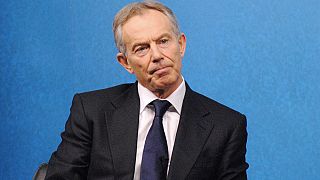 -
Former British Prime Minister Tony Blair has blamed Jeremy Corbyn's "visceral anti-Western position" for the antisemitism row currently gripping the Labour party.
"Antisemitism is one aspect of what is a deeper problem with the politics of Jeremy Corbyn and the people around him which is sort of a visceral anti-Western position," Blair said in an exclusive interview to mark the launch of Euronews' Raw Politics show.
"If you look at where they make their attacks, where they don't make their attacks: they will attack people who support the West and they will basically defend people who are anti-West.
"In a way, their attitudes to Israel got kind of caught up in that bigger and broader argument," he added.
The Labour Party has been mired in allegations of antisemitism for years but the debate flared up in recent months after its national executive committee (NEC) decided not to adopt the International Holocaust Remembrance Alliance (IHRA)'s definition of antisemitism in its integrality. 
It argued that under one of the examples given, legitimate criticism of Israel could be construed as antisemitic.
'A truly shameful episode'
Blair, who led the Labour Party for 13 years, said he doesn't think Corbyn is an antisemite but deplored the way the situation was handled.
"This has been a truly shameful episode for the Labour Party and it's causing real difficulties for those of us who stay in the Labour Party and want to see it come back to sense; to see a situation in which the Jewish community in this country feel really alienated and worried and anxious and that's a terrible thing to have done," he said.
"There is an element to this leadership in respect to this antisemitism question which I think is very difficult to reconcile with the proper principles of the Labour Party."
Blair is not alone within Labour ranks to call on the party's leadership to act.
Fellow former labour Prime Minister Gordon Brown told the Jewish Labour Movement conference in London on Sunday that the party should "support unanimously, unequivocally and immediately" the IHRA's definition of antisemitism. 
"I believe that the Labour Party will change the policy. I believe that the Labour Party must and should change the policy. And I believe this problem must be solved within the Labour Party now," Brown said.
'Repent and recant'
Labour's decision not to back the IHRA's decision has led the Jewish Chronicle, Jewish News and Jewish Telegraph to publish the same front page editorial in July in which they said a Corbyn-led government would pose an "existential threat to Jewish life" in Britain.
Lord Sacks, Britain's former Chief Rabi, said on the BBC's Andrew Marr show on Sunday that he knew Jewish families who were thinking of leaving the UK.
"When people hear the kind of language that has been coming out of Labour, that's been brought to the surface among Jeremy Corbyn's earlier speeches, they cannot but feel an existential threat," he said.
"Jews have been in Britain since 1656, I know of no other occasion in these 362 years when Jews - the majority of our community - are asking, 'Is this country safe to bring up our children?'. Now, this is very, very worrying."
Corbyn, he added, should "repent and recant as quickly as possible so as to regain the trust of the Jewish and general public".
Labour's NEC is scheduled to meet later this week to decide whether to adopt the International Holocaust Remembrance Alliance (IHRA) declaration.
'It's a struggle'
Blair, whose centre-left agenda led the Labour Party to victory in two consecutive general elections, said the current crisis is not only alienating Jewish people but also more moderate voters who don't recognise themselves in Corbyn's more left-wing politics. 
"Frankly under successive Labour leaders, the door was pretty much bolted to all these fringe and far left elements and now they have come into the Labour Party and it's a different type of Labour Party.
"You know, I am in a situation where this is my political home. And you know, at the moment it's a struggle," he said.
Watch the full interview with Tony Blair on Raw Politics on September 3, 2018 at 6p.m CET.
Provocative and unapologetically impartial, Raw Politics is the new must-see daily politics show that takes on the issues that matter. Join the debate every weekday from Sept 3.