John McCain honoured in Washington
Comments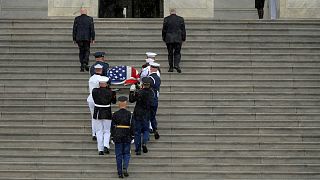 Leading politicians are gathering in the US Capitol on Friday to commemorate late Senator John Mccain.
The Arizona senator, who died on Saturday from brain cancer aged 81, is the 31st person to receive the honour of lying in state in the Rotunda of the US Capitol.
US Vice President Mike Pence is expected to lead tributes at a ceremony honouring McCain, a former prisoner of war in Vietnam who ran for president in 2008.
The senator was a prominent critic of US President Donald Trump and did not want the US president to attend his remembrances.
The Rotunda will open for public viewing at 1pm local time (7pm CEST). A funeral service will be held on Saturday at the Washington National Cathedral.