Chemnitz: German clashes "shocking"
Comments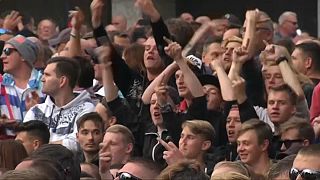 Images of a far-right wing protest, particularly in Germany were "shocking". That from the UN Human Rights Chief. Zeid Ra'ad al-Hussein added that European leaders must speak out against incitement to hatred. Around 800 demonstrators gathered in Chemnitz on Sunday (August 26 2018), hours after a 35-year-old man died after a dispute between several people of "different nationalities".
United Nations High Commissioner for Human Rights, Zeid Ra'ad al-Hussein says, "I think it's fundamentally important that public officials throughout Europe denounce all of this. We find ourselves in the UN that we are one of the few public voices that are doing so and we don't think it's enough."
Zeid also added he was particularly shocked by the use of Nazi salutes during the protest. A memorial for the man who was killed, shows how people feel distressed by the sad incident. It lays bare close links between a range of anti-migrant groups, and their ability to quickly mobilise thousands of demonstrators.
At a press conference, Minister and President of Saxony, Michael Kretschmer said the clashes "should shake us all".
The stabbing and disturbing protests have exposed deep divisions in German society over Chancellor Angela Merkel's 2015 decision to open the door to more than one million migrants. It started when a German Band tweeted, "come everyone to Chemnitz on Monday for a free concert against the far right.