Watch: Snow hits parts of Italy and Austria
Comments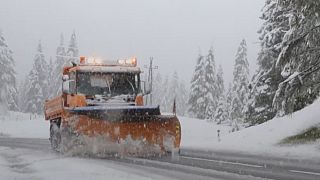 From a heatwave to snow storms, parts of Italy and Austria have seen a dramatic shift in weather over the weekend.
At Obertauern, a ski resort in Salzburg, almost 40 centimetres of snow fell with temperatures dropping to 2°C, and nearly -1°C  in other parts.
In Schladming in northwest Austria, between 25 and 30 centimetres of snow fell.
Although snow in Austria in August is not uncommon, the quantity of snow this year is unusual, according to a local hut owner.
Pordenone in northeast Italy experienced strong storms while residents at Cortina d'Ampezzo, a ski resort in northern Italy, was coated with 10 centimetres of snow on August 26.
Rifugio Scoiattoli, an alpine lodge in the Dolomites, was also covered in snow.
The snow may be short-lived, however, with temperatures rising as high as 30 degrees in Austria this week according to weather forecasts.
The snow in parts of Austria and Italy follows weeks of a prolonged heatwave that hit Europe in late July.
Sweden, Greece and Spain suffered severely by wildfires.
Temperatures this summer were unusually high throughout the globe, with the latest data showing that July was the third hottest on record.
Global temperatures were recorded to be more than 0.4°C warmer than average.