Migrants entering Spain douse police officers in corrosive substance
Comments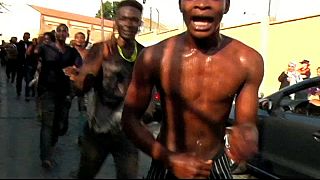 More than 100 African migrants have forced their way into the Spanish enclave of Ceuta from Morocco, according to a Spanish police spokesman.
Most of them were young men shouting, "I love Spain!" as they walked to a temporary reception centre.
Seven Spanish policemen suffered burns caused by a corrosive substance thrown by the migrants. Five migrants were injured in the jump, with bloodied arms and legs apparently caused by razor wire at the top of the fences.
Nearly 4,000 migrants have so far crossed the Moroccan border into the Spanish enclaves this year, according to the UN refugee agency.
During a recent visit to Spain, German Chancellor Angela Merkel and Spanish Prime Minister Pedro Sanchez agreed to increase dialogue with Morocco to assist with migrant inflows to Spain.
Yet EU leaders have failed to agree on a long-term plan on where to house migrants since brokering a convoluted deal in June.