Imran Khan sworn in as Pakistan's new prime minister
Comments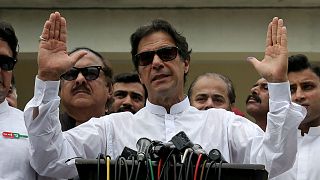 Former cricket star Imran Khan has been sworn-in as Pakistan's new prime minister.
On Friday, MPs elected Khan to the position in a vote at the country's National Assembly.
Khan's PTI party swept to power in last month's election and won Friday's vote with the help of small parties. 
It now paves the way for him to form a coalition government.
His party does not have enough seats in Pakistan's National Assembly to govern alone and will need the support of independents and other political movements.
Khan, 65, won the July 25 election promising to fight corruption and lift millions of people out of poverty.
Pakistan has been plagued by boom-and-bust cycles and military coups since independence in 1947, as well as by militant violence in more recent years.
Khan, a firebrand nationalist, has promised to create millions of jobs and build world-class hospital and school systems in the mainly-Muslim country of 208 million people.
Among his first challenges will be to decide whether to request an International Monetary Fund (IMF) bailout to ease currency pressures, or seek support from China and risk deepening Pakistan's economic dependence on its neighbour.