Europe briefing: 5 stories to know about today
Comments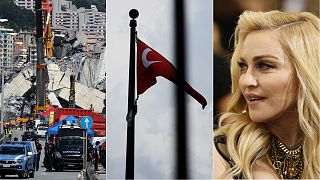 1. Italy Bridge collapse controversy
A state of emergency was declared in Genoa's region after the deadly bridge collapse.
Prime Minister Giuseppe Conte said on Wednesday after an emergency cabinet meeting that the government would not await the outcome of a criminal inquiry before moving to strip Autostrade of its toll concession.
The toll-road operator Atlantia warned the way the Italian government made the announcement that it would revoke a motorway concession from one of its units following the deadly bridge collapse could damage investors in the infrastructure group.
Atlantia was correct in its prediction, as shares were down 23.5% in early trading on Thursday.
The infrastructure group previously said it had correctly met all maintenance obligations.
The death toll from the accident was revised from 39 to 38 on Thursday, according to police numbers.
Keep up to date with the latest here.
2. Turkish lira gets a lifeline from Qatar
The lira rallied to slightly below 6.0 against the dollar in early Thursday trading.
It came after Qatar pledged a $15 billion in investment to Turkey to help the country ride out the currency crisis.
The offer was made after Turkish president Erdoğan hosted Sheikh Tamim bin Hamad Al-Thani, emir of the Gulf state.
Meanwhile, the US backtracked on removing steel tariffs on Turkey even if Ankara frees the US pastor Andrew Brunson, who has been at the centre of souring relations.
The transatlantic dispute has been partly responsible for the lira plummeting to a record low of 7.24 to the dollar on Monday.
3. Aquarius docks in Malta — what next?
The migrant rescue ship Aquarius docked in Malta on Wednesday after an EU standoff as to who would take in the 141 migrants onboard.
France, Germany, Luxembourg, Portugal, and Spain will now share responsibility in a coordinated response.
The ship had been looking for a harbour for the last five days. The UN Refugee Agency welcomed the decision but said the stalemate showed the need for a Mediterranean regional arrangement that provides clarity on where migrant boats can dock.
4. Marine Le Pen un-invited to one of Europe's largest tech conferences
The former French presidential candidate and leader of the National Front political party was un-invited to a Europan technology conference.
Le Pen was listed on the Web Summit's website as a speaker for its conference in November.
Conference CEO Paddy Cosgrave initially defended giving Le Pen a platform, however, following a backlash online, he changed his mind and said the correct decision "is to rescind Marine Le Pen's invitation".
5. Happy 60th birthday Madonna
The pop star, known for her innovation and constant rebranding, turns 60 today.
Madonna has performed on 10 concert tours and sold more than 300 million records, making her the best-selling female recording artist of all time, according to the Guinness World Records.
Scroll to see how the key events from Thursday morning unfolded.