Mali: Run-off presidential election voting is relatively peaceful
Comments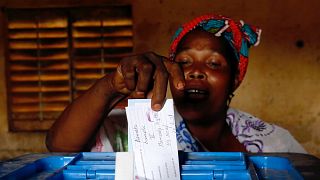 As votes are being counted in Mali, it was generally peaceful at polling stations on Sunday.
It's the run-off presidential election between the incumbent Ibrahim Boubacar Keita and his opposition challenger Soumalia Cissé
Keita made his vote, to continue a second five-year term.
The 73-year old's expected to win after taking 41 percent of the vote last month.
It's despite a surge in ethnic and militant violence during his time in office.
Meanwhile, Cissé, who received nearly 18 percent of the votes in July, blames Keita for the worsening violence and accuses the government of rampant corruption
As the 68-year-old votes, he says he's confident of victory but he also accuses the government of trying to stuff ballot boxes.
Initial assessments by election observers say there were no serious incidents reported and most polling stations had functioned well.
But it could be sometime before reports are heard from conflicting areas in the north and in particular, the centre.
There were 36,000 troops deployed to provide security at stations after the first round on July the 29th was marred by armed attacks.