Erdogan blames "plot against Turkey" for plunging lira
Comments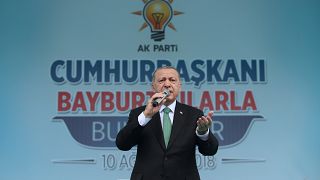 As the Turkish lira continues to lose value, President Recep Tayyip Erdogan is pointing fingers at new US metals tariffs.
But investors are concerned about the country's monetary policy.
On Sunday (August 12), Erdogan dismissed suggestions that Turkey is facing a financial crisis.
Speaking to supporters in Trabzon, he stood by his opposition to raising interest rates, saying the lira's recent plunge doesn't reflect economic reality,
Instead he blamed it on a plot against Turkey:
"What they couldn't do with provocations, with coup attempts, they now try to achieve by means of money. In plain language, this is called an economic war. This is called: Undertaking an operation against Turkey. And the aim of the operation is to take down the defense mechanisms of our economy and thus to captivate Turkey in all fields, from finance to politics (to bring the Turkish people to his knees)."
The lira has lost about 40 percent of its value this year over worries about Erdogan's influence over the central bank and worsening ties with the US. 
Without an rate hike, investors fear the economy will overheat and could be set for a hard landing.