Zimbabwe's Mnangagwa takes lead in vote count
Comments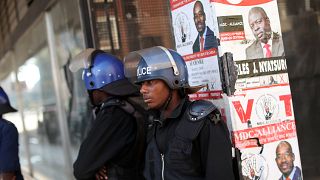 Zimbabwe President Emmerson Mnangagwa took a strong lead in the counting of votes on Thursday from this week's presidential election, according to the official results.
With nine out of 10 provinces declared, Mnangagwa had 2.15 million votes against 1.93 million for opposition leader Nelson Chamisa.
International observers had urged Zimbabwe's electoral commission to release the results as soon as possible to avoid further violence after six people were killed on Wednesday in clashes between security forces and opposition supporters.
Protesters accused the electoral commission of rigging the vote in favour of the ruling party.
Monday's election was the first since Robert Mugabe was forced to resign after nearly 40 years in power.
It pitted his successor Mnangagwa — a one-time Mugabe ally — against Chamisa, a 40 year-old lawyer and pastor.
European Union observers listed several problems with the vote, including media bias, voter intimidation and mistrust in the electoral commission.