Family of couple who lost their lives in Greek wildfires sue authorities
Comments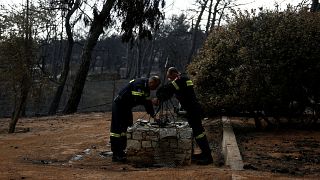 The family of a couple who lost their lives in the wildfires which swept through Greece's Attica region last week have sued local authorities and the emergency services for their deaths.
As sadness turns to anger over one of the worst natural disasters in Greece's history, this could be the first of many law suits filed against the Greek authorities.
The fires left more than 90 people dead and sparked a call for new elections.
Among them, 70-year-old teacher Vassilis Katsargyris and his wife, who were found dead just 400 metres from their home. Their relatives said: "We are in the sad and tragic position of mourning the unfair loss of our beloved ones."
Antonis Foussas, the family's lawyer said: "I believe that those who are responsible for protecting people, for putting out the fire and taking any precaution measures to prevent it, will be convicted."
Those involved have said they didn't receive any information on what to do or how to escape neither during nor after the fires broke out. An investigation is due to take place but it's thought the authorities could be liable for criminal damages including those of involuntary manslaughter, arson, bodily harm and exposure which led to death.
Euronews correspondent Fay Doulgkeri, who has been following the situation in Greece, spoke to some of the people affected by the disaster. Many, she said, told her that once the period of grieving ends and when they get over their shock they will go to the courts. "Many people, many of the relatives are survivors themselves so they have a very clear picture about what happened. They are very angry and very sad and they say they are going to court to demand answers."
"Since the first moment… we have been watching a blame game between the central government and the local authorities", says Fay Doulgkeri. "The central government and the services like the fire department and the police say that they didn't make any mistakes that they urged the mayor to evacuate but on the other side the mayor says that the instructions they got from the central government and the services were not enough."
While the cause of the fires is yet to be confirmed, Greek ministers say there are signs to suggest it could be arson. It's hoped these questions will be answered by the ensuing investigation.