'Serious indications' wildfires were caused by arson in Greece
Comments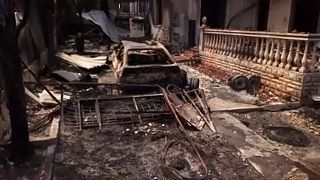 Citizen Protection Minister Nikos Toskas says there are "serious indications" that arson caused wildfires near Athens, killing 83 people and injuring more than 100 others. Countless remain missing.
"We have serious indications and significant signs suggesting the criminal actions of arson," he told a news conference on Thursday, adding the suggestion was backed by testimonies gathered by police.
Drone footage of the Greek coastal resort of Mati, taken before and after the wildfires that ripped through the area, show the devastation wreaked by the fires.
Now questions are being asked as to why residents were unable to escape the wall of flames that engulfed the small town?
The authorities say illegal building was partly to blame. Some residents had built houses between wooded areas which effectively blocked off escape routes.
Vasislis Pitakis, Secretary General of the Rafina Municipality explains: "It may sound strange to people abroad, but in Greece we have a term called unapproved or illegal construction. This way of building houses causes problems - narrow streets, with no easy access. This was one of the reasons behind what happened. In other words, cars became trapped and people abandoned them trying to flee going towards the sea."
Initial inspections showed more than 500 homes in the wider area were damaged, most of them beyond repair.
More than 300 burnt cars have been removed from the streets of the town to unblock the narrow roads that became death traps on Monday evening.
The cause of the fire is still unclear. However, Citizen Protection Minister Nikos Toskas said on Thursday there were "serious indications" that they were a result of arson.